There's a rift in one of the Tea Party umbrella groups caused by a blatant promotion video that shows Tea Party Patriots' (TPP) national coordinators Mark Meckler and Jenny Martin "flying for freedom" and "landing for liberty" across the United States in a private jet named "Patriot One." The duo's mission: rally tea partiers before the election.
Stephanie Mencimer from Mother Jones reports:
If tea party leaders jet around the country in a plane donated by a big GOP contributor, are they still "grassroots" activists? It's a question some local tea partiers would like to put to the leaders of the Tea Party Patriots, one of the nation's largest tea party umbrella groups, which claims to represent 15 million people.
An Atlanta-based filmmaker has been jetting around with Meckler and Martin to highlight their travels: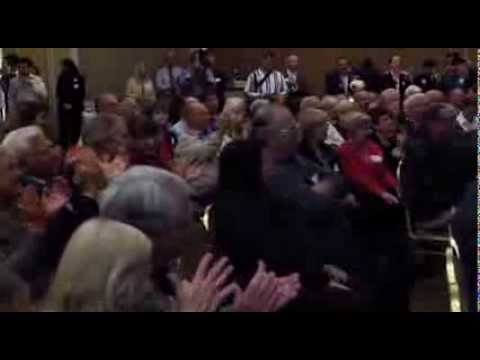 So, who owns the jet and how do other tea baggers feel about it? And how do Tea Partiers reconcile this type of extravagant and opulent behavior with their calls for "fiscal responsibility?'
Using publicly available flight-tracking information on the Internet and the schedule posted on the Tea Party Patriots website, we were able to determine the owner of "Patriot One." As Temple suggested, he is not exactly what you'd call a "grassroots" donor. His name is Raymon F. Thompson, and he's the founder and former CEO of Semitool, a semiconductor company he recently sold for $364 million.
According to the Federal Aviation Administration, that jet is registered to Eagle III, a private company in Kalispell, Montana, a hotbed of tea party and other right-wing activity, including, in the past, armed militia groups. According to Montana corporation records, Eagle III belongs to Thompson.
Thompson and his wife have been major donors to the Republican Party for more than 15 years. Together, according to data from the Center for Responsive Politics, they have given more than $130,000 to federal Republican committees and candidates, including $4,800 this year to tea party favorite Rep. Michele Bachmann (R-Minn.). Thompson is also active in Montana politics, where has supported one of the tea party's most radical candidates, Derek Skees, who's running for a seat in the Montana house. Skees, who showed up at a Memorial Day parade this summer wearing a jacket emblazoned with a Confederate flag, and has been connected to anti-Semitic and militia activity, is a tea party purist. He has advocated nullifying federal health care laws, refusing federal stimulus money, and shutting down many of the state's school districts and giving kids vouchers to help cut the budget by letting the private sector fill the gap.
Read the full story here.
Comments
comments