Citizens, politicians, and rescue workers from around the world paused today throughout New Zealand for two minutes to remember the victims of the devastating 6.3 earthquake that rocked Christchurch a week ago. As the small island country mourned the 155 dead, many found hope in the words of a 150-year-old scroll and time capsule discovered hidden in a toppled statue.
The time capsule contained a glass bottle and rolled-up parchment inside a metal cylinder. The items were discovered in the base of a statue honoring Christchurch founder John Robert Godley, which had been toppled during last Tuesday's earthquake.
Christchurch Mayor Bob Parker sees the discovery of the artifacts, which may have been placed in the statue as early as 1867, as "inspirational:"
"I think of all the days we're looking for some hope and some vision it actually delivers to us a miracle, it's a miracle that these guys found this thing this morning under the statue of the man who was the founder of the city. I don't know what the words are because I don't want to try and unwrap them without proper conservation, but I'm imagining it will tell us of the hopes and aspirations of the people of this city when it was founded. Is there a better time to have that refreshed? I think it's miraculous."
The artifacts will be handled by specialists at the Canterbury Museum in Christchurch.
WATCH: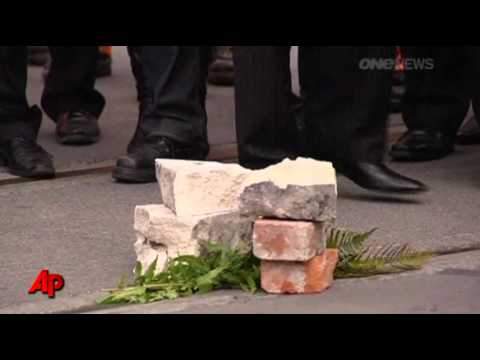 Comments
comments