It's been less than 24 hours since President Barack Obama announced the death of Osama bin Laden and already the conspiracy theories are popping up. And what better place for them to launch from than Andrew Breitbart's website. Writing for Breitbart's Big Peace blog, J. Michael Waller opens his post with a real zinger :
Just as Islamist extremists sought to use Ground Zero as a triumphal place to build their mosque, the United States should use the site to display Osama bin Laden's naked body for all Americans to see. We have a right to view our nation's tormentor face to face, to make sure he is dead, and to spit on him if we choose.

Then the U.S. should unceremoniously destroy the carcass, flush it into the Manhattan sewer, and start grinding up bin Laden's legacy among his followers.

I don't even know what to say to that, except that if that's the kind of country we've devolved into, we've passed the point of no return. Believe me, I understand what Osama bin Laden was, but I also thought I understood that we were supposed to be better. That kind of barbaric behavior, even in the form of a suggestion, never leads to anything good. Waller goes on to suggest what should be done:
The free world, particularly the United States, has a right to make sure Osama bin Laden is really dead. Every American has a right to walk right up to bin Laden's corpse and view it. We are entitled to know for a fact that the witch is dead. No shroud for dignity's sake, please – bin Laden's naked, bullet-riddled corpse should be put on display in lower Manhattan for all the world to see. The entire body should be digitally scanned, inside and out – and made available for everyone to take his or her own picture.
Next up, we have everyone's favorite fundie fruitcake, Bryan Fischer, who has now made the assertion that I mentioned in a previous post today via Hrafnkell Haraldsson from Politicus USA:
We can only imagine that as this Republican reality develops, President Obama will either disappear altogether or killing bin Laden will turn out to be the worst thing we could have done and they will all deny they said it was a good idea.
Fischer must have read that because he took that ball and ran with it going on a rant that I can only describe as completely mental, Fischer let loose with this diatribe: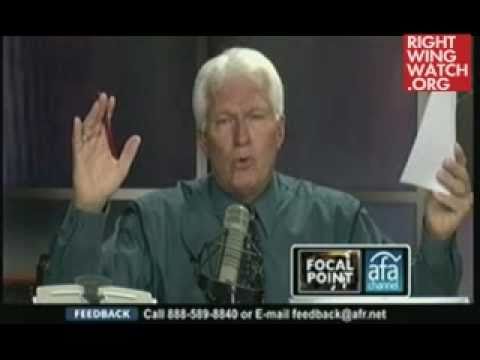 "This was at his direction, 'it was at my direction, I'm the guy, I'm the man, I'm the Commander in Chief.' Now the problem this creates for President Obama is this: he cannot blame this on President Bush. Now that's what he's been able to do. Realize that this man has gone all over the world blaming President Bush and blaming America for all of our troubles with the Islamic world. This is a major PR problem for President Obama and he does not even realize the size of the hole that he dug for himself and the size of the hole that he just fell into."
Honestly, I don't think I've seen mental illness on this scale. This is epic, this is off the charts.
Finally, Politico has a round-up of comments and theories, some expected and some kind of surprising:
From Alex Jones, conspiracy theorist extraordinaire: "The Government had Osama bin Laden frozen for years."
From Cindy Sheehan, anti-war activist: "I am sorry, but if you believe the newest death of OBL, you're stupid. Just think to yourself—they paraded Saddam's dead sons around to prove they were dead—why do you suppose they hastily buried this version of OBL at sea? This lying, murderous Empire can only exist with your brainwashed consent—just put your flags away and THINK!"
On Facebook, a new group has popped up called Osama bin Laden NOT Dead, where one of the more popular veins of thought is that bin Laden never existed to begin with.
And there you have it, your initial introduction to the Deathers. I'm sure we'll be seeing more as time goes on – unfortunately.
I don't know whether to laugh or cry.
Comments
comments