No, we're not talking about a Baldwin brother or the guy who played Obi Wan. We're talking about ALEC, the American Legislative Exchange Council, a secretive organization from the Koch Brothers made up of politicians, corporations and think tanks, and this is the first in a multi-part series about the group, its goals and the people behind it.
What is ALEC?
The one thing it's not is a lobbying group. As their page at SourceWatch states:
ALEC is not a lobby; it is not a front group. It is much more powerful than that. Through ALEC, behind closed doors, corporations hand state legislators the changes to the law they desire that directly benefit their bottom line. Along with legislators, corporations have membership in ALEC. Corporations sit on all nine ALEC task forces and vote with legislators to approve "model" bills. They have their own corporate governing board which meets jointly with the legislative board. (ALEC says that corporations do not vote on the board.) They fund almost all of ALEC's operations. Participating legislators, overwhelmingly conservative Republicans, then bring those proposals home and introduce them in statehouses across the land as their own brilliant ideas and important public policy innovations—without disclosing that corporations crafted and voted on the bills. ALEC boasts that it has over 1,000 of these bills introduced by legislative members every year, with one in every five of them enacted into law. ALEC describes itself as a "unique," "unparalleled" and "unmatched" organization. It might be right. It is as if a state legislature had been reconstituted, yet corporations had pushed the people out the door.
An "unparalleled" and "unmatched" organization, funded by corporations who craft "model" legislation that is then filtered through to state legislatures through their political members. Not something that inspires any sense of security. But this is the real fight, people. In many ways, this is not red vs. blue, this is not Democrat vs. Republican, or Progressive vs. Conservative; this is democracy vs. a corporate coup of the United States of America.
Who is behind ALEC?
It should come as no surprise that the Brothers Koch, Charles and David, are major players in ALEC. Lisa Graves, Executive Director for the Center for Media and Democracy in Madison, Wisconsin, wrote an article for The Nation magazine, ALEC Exposed: The Koch Connection, in which she explains their influence:
Hundreds of ALEC's model bills and resolutions bear traces of Koch DNA: raw ideas that were once at the fringes but that have been carved into "mainstream" policy through the wealth and will of Charles and David Koch. Of all the Kochs' investments in right-wing organizations, ALEC provides some of the best returns: it gives the Kochs a way to make their brand of free-market fundamentalism legally binding.
Speaking with Amy Goodman of Democracy Now, Graves made a comment that sent chills down my spine:
"What ALEC does for people like David and Charles Koch and others is it makes—it gives them a way to make their vision of the world legally binding on the rest of us."
That's a frightening prospect, because their vision of the world is one in which government would be privatized from public works to prisons to schools, the environment would be poisoned, and the nation's citizens would be viewed as commodities to be bought and sold.
Who are the other members of ALEC?
The membership of ALEC should scare the pants off of anyone who values a true democratic government and society. It is made up of a combination of politicians and corporations from almost every state. Their "Public" Board of Directors consists entirely of Republican lawmakers:
Executive Board:
National Chairman – Rep. Noble Ellington (R-Louisiana)
First Vice Chairman – Rep. Dave Frizzell (R-Indiana)
Second Vice Chairman – Rep. John Piscopo (R-Connecticut)
Treasurer – Rep. Linda Upmeyer (R-Iowa)
Secretary – Rep. Liston Barfield (R-South Carolina)
Immediate Past Chairman – Rep. Tom Craddick (R-Texas)
Board Members:
Sen. Curt Bramble (R-Utah)
Rep. Harold Brubaker (R-North Carolina)
Sen. Jim Buck (R-Indiana)
Sen. Kent L. Cravens (R-New Mexico)
Rep. Jim Ellington (R-Mississippi)
Sen. Billy Hewes, III (R-Mississippi)
Spkr. William (Bill) Howell (R-Virginia)
Sen. Owen Johnson (R-New York)
Sen. Michael Lamoureux (R-Arkansas)
Rep. Steve McDaniel (R-Tennessee)
Sen. Ray Merrick (R-Kansas)
Sen. William (Bill) Raggio (R-Nevada)
Sen. Dean Rhoads (R-Nevada)
Sen. Chip Rogers (R-Georgia)
Sen. Bill Seitz (R-Ohio)
Rep. Curry Todd (R-Tennessee)
Sen. Susan Wagle (R-Kansas)
ALEC also has a Corporate Board, made up of a plethora of corporations who have their dirty paw prints on legislation across the country:
CenterPoint 360, W. Preston Baldwin – Chairman – Lobbying firm
Altria Group, Daniel Smith – Formerly tobacco giant Phillip Morris
American Bail Coalition, William Carmichael, Jerry Watson – Criminal court appearance bonds
AT&T, William Leahy – Communications giant
Bayer Corp., Sandy Oliver – Pharmaceutical giant
Coca-Cola Company, Gene Rackley – Soft drink giant
Diageo, Kenneth Lane – Global, consolidate liquor company
Energy Future Holdings, Sano Blocker – Texas energy company
ExxonMobil Corporation, Randall Smith – Oil giant
GlaxoSmithKline, John Del Giorno – Pharmaceutical giant
Intuit, Inc., Bernie McKay – Software company
Johnson & Johnson, Don Bohn – Healthcare/pharmaceutical giant
Koch Companies Public Sector, Mike Morgan – Largest private company in U.S.
Kraft Food, Inc., Derek Crawford – Food giant
Peabody Energy, Kelly Mader – Coal company
Pfizer Inc., Michael Hubert – Pharmaceutical giant
PhRMA, Jeff Bond – One of the largest lobbying organizations in the U.S.
Reed Elsevier, Inc., Teresa Jennings – Professional journal publisher
Reynolds American, David Powers – RJ Reynolds tobacco company
Salt River Project, Russell Smoldon – Arizona utility company
State Farm Insurance Co., Roland Spies – Insurance giant
United Parcel Service (UPS)[2], Richard McArdle – Shipping and freight company
Wal-Mart Stores, Maggie Sans – Retail giant
In addition to the politicians and corporations, several think tanks serve as members including the NRA, the Friedman Foundation for Educational Choice (started by the "shock doctrine" mastermind Milton Friedman), Dick Armey's Institute for Policy Innovation, and the Mackinac Center for Public policy, which spent a lot of time meddling in the Wisconsin protests.
Also on board are several "scholars," the majority of whom have direct ties to the Koch brothers. The most recognizable is Stephen Moore, the founder of the Club for Growth and a former senior fellow at the Cato Institute, founded by Charles Koch in 1977.
What are the ALEC documents?
The Center for Media and Democracy in Madison, WI unveiled a trove of over 800 "model" bills and resolutions authored by the members of ALEC. These bills, according to their website, "have been introduced in legislatures in every state—but without disclosing to the public that corporations previously drafted or voted on them through ALEC." These "model" bills have been introduced in nearly every aspect of law including labor, education, health, women's issues, voting, and others.
Over the coming weeks, The Stew will be taking a look at the documents and posting our findings as we feel that this is important information that each and every voter should be aware of.
WATCH Lisa Graves' appearance on Democracy Now: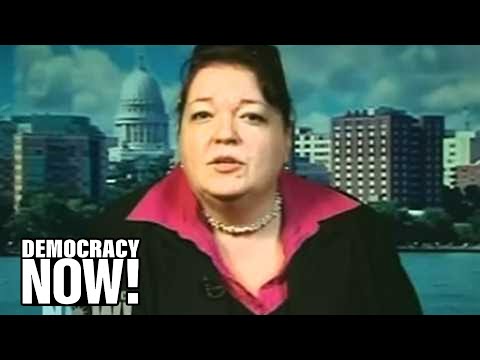 Comments
comments