Rick Perry made his debate debut [...] and it is clear that he is a proud graduate of the Sarah Palin school of debate. When Perry didn't care for a question, he simply didn't answer it. Gov. Perry had no answer for the fact that 25% of the citizens of his state have no health insurance. He couldn't answer why his state had such a poor performance numbers. If you missed Rick Perry, you didn't miss much…
WATCH this great compilation of the wackiest moments from ThinkProgress: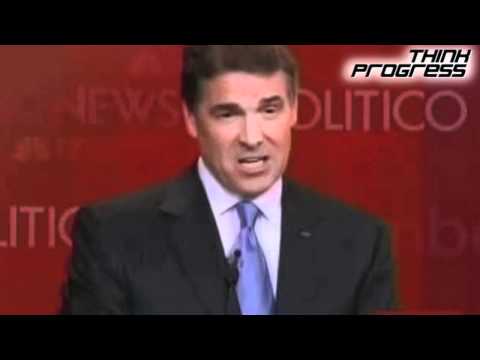 The models could be wrong, he said, and he asserted that we shouldn't make political decisions based on what could be flawed science. And even if a lot of scientists (actually, 97 percent of them, to be exact) agree that the science is settled, that's not enough according to Perry. "Galileo got out-voted for a spell," he said.

 A full 20 percent of Rick Perry's $100 million fundraising tally as governor has come from Perry appointees, and on everything from toll roads to nuclear waste dumps to private prisons to lawsuit reform, Perry's policies have dovetailed neatly with the interests of his biggest donors.
Best Twitter responses to the GOP debate
Glad that Rick Perry got to exercise his Second Amendment right to shoot down his candidacy.

Nothing like hearing an angry mob of Christians cheer for the death penalty

I think Newt is just doing this to get out of the house and lash out at someone other than his wife

Where is Mitt Romney's American flag lapel pin? Why doesn't he love America? Oh, wait. He's white…

Galileo just scratched out "You lie!" from his grave.

"Social Security is a Ponzi Scheme" — The GOP Front-runner Pass it on.

Perry is like Will Ferrell doing Bush, but on half speed

Tell Rick Perry if there was no Death Penalty Jesus might still be here

Glad I am not a fact checker

Rick Perry: We need boots on the ground, a fence, and drones to keep out science I dislike.

As devout Christian Michele Bachmann comes out against intervention in Libyan mass civilian slaughter.

Stupidity definitely won the debate tonight & horrid viciousness came in a close second.

Gingrich says he will fire the Fed chairman. Which the President can't do.

Perry's meltdown stupidity helps him. Huntsman's sane intelligence hurts him. The modern Republican Party illustrated.

Rick Perry has learned that 'Entitlement Reform' sounds way better than 'Have some more catfood, Nana.'

"What the Hell do ya mean 'Old People Like Social Security.' – Rick Perry, while firing aide
Other Headlines:
And yes, he's begging for federal support. The man who entertained secession and who hates big government interference in state matters wants federal help even though he slashed his state firefighting budget.
Two thirds of viewers who say Fox News is the news source they trust most believe discrimination against whites is as big a problem as discrimination against minority groups, according to a study released Tuesday
Comments
comments