Las Vegas has seen everything…at least we thought so until tonight's CNN Republican Primary debate. Getting married by an Elvis impersonator, paying money to watch midgets on a trapeze, or passing out in your own vomit behind the Luxor hotel can't even match the ugliness and generally tackiness of tonight's Teapublican freak show.
Here's my point-by-point recap…
5:05 PM PT – Introductions:
Anyone ever notice that frumpy Newt Gingrich waddles across the debate stage like a confused contestant in a toddler beauty pageant?
Rick Perry is so uncomfortable out of cowboy boots and in regular street shoes that he stands like he's got hemorrhoids the size of Texas.
Santorum: Daddy missed your surgery today because he has to chase his presidential hopes that hang by wing and a prayer, because he's not qualified to work at a regular job.
Ron Paul: "I'm the champion of liberty."
Rick Perry: You can't even get through your introduction without looking like a first generation reject of a Disneyland animatronic cowboy.
5:10 PM PT – The Cain 9-9-9 Plan:
Herman: My plan was conceived by a Wells Fargo employee in Ohio. Stop asking me about details of my own plan.
Bachmann, who loves to remind people she is a "former federal tax attorney," looks like a deer caught in headlights every time someone mentions percentages, numbers and stuff.
No, seriously, why is Rick Santorum on stage? He thinks Cain's plan will lower…the national birthrate?
5:16 PM PT – Rick Perry to Cain: "I'll bump plans with you my brother." That's Ricky's way of saying that a bunch of corporate hacks are busy drafting his own economic plan and he'll share that with us later in the week when he decides on his favorite color crayon.
WATCH: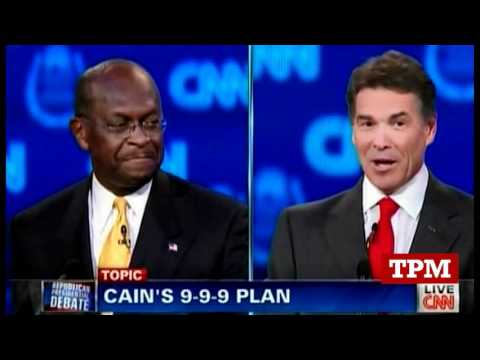 Translation: 'Them people out there don't wanna pay no three 9′s in taxes. And you're fixin' to give them one. They want flatter…brother.
Michele Bachmann laughs at everything Newt Gingrich says the same way a drunk soccer mom giggles and flirts with the single math teacher during a PTA meeting: she's desperate for attention and approval.
Newt Gingrich was just talking and discovered a piece of chicken lodged between his teeth from 1994. Go figure.
5:25 PM PT – The candidates do their typical round of "drill, baby, drill" while claiming the reason America is suffering is that we're not drilling for enough oil off our shores and in our protected wilderness areas.  Palin would be so proud.
5:27 PM PT – Santorum's plan is cut taxes for corporations, manufacturers, and industry. He then claims Romney has no credibility when it comes to conservative issues because of his Obama-like healthcare plan he crafted when he was governor of Massachusetts. Romney then revises what's in his book and his past by saying his plan was good, and Obama's was bad, and that he wouldn't give a flying fig if the rest of America had affordable health coverage.
5:32 PM PT – Newt Gingrich once again represents all Teapublican's view on healthcare by showing that they are rich enough to afford the best while the poorest in America should have the "choice"….to die or go into debt.
5:39 PM PT – Thirty-nine minutes and one commercial break into the debate and Ron Paul finally gets a chance to say something, but I can't remember what it was.
5:40 PM PT – Rick Perry says that even though there are more than one million uninsured children in Texas, the state has the best healthcare in the nation. Sounds logical. Perry then seques into accusing Romney of hiring illegal aliens for his home. Romney flatly denies the charge. The two then lower themselves in the mud…
WATCH: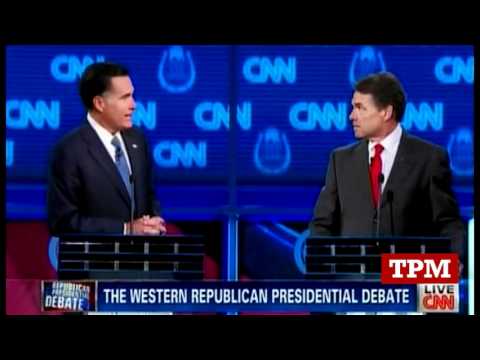 However, Romney almost got away with this little claim that he told the lawn company working on his yard to stop hiring illegals because he was gonna be President…
"You can't have any illegals working on our property. I'm running for office, for pete's sake, we can't have illegals"
WATCH: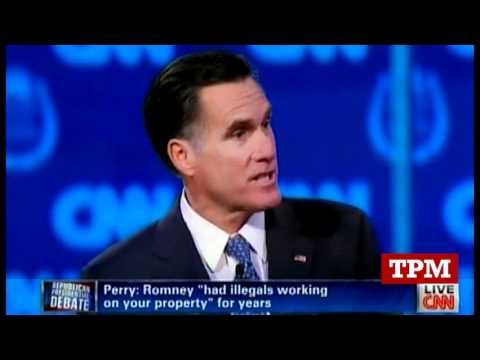 Romney just schooled Perry on proper debate ettiquette, accusing the clueless cowboy of not allowing others to speak. And then both continued with their argument over who hates Mexicans more.
Note: This debate crowd loves Mitt Romney, which makes sense considering Mittens' wealthy ties to Sin City and the high concentration of Mormons who make Las Vegas their home.
5:45 PM PT – Immigration and Cain's electrified fence
This audience loves the idea of people getting electrocuted by Herman's fence so much that they can't stop laughing. The crowd then applauds when Cain mentions that he might be serious about the idea, but will have to check with his advisor at the Wells Fargo branch in Ohio.
Perry wants to use "strategic" fence building and technology to build a "virtual defense zone" on the US/Mexican border.
Bachmann says that President Obama's aunt and uncle are illegal aliens in the U.S. and that's the real immigration problem. She then said she would build a "double-walled" fence along the entire border, which could take billions of dollars and more than a decade to complete. In the meantime, Romney will hire the illegals, Perry will let them go to college, and Herman will electrocute the ones that dare to cross.
Ron Paul says we should treat immigrants like "people." That's a unique conservative position.
5:55 PM PT: Rick Perry curses renewable and green energy. That's a shout out to the Texas oil companies that have kept him in office.
Bachmann is so low tier at this point that she should just give it up. She has to shout and raise her hand to try and get noticed. Anderson Cooper seems to take joy in ignoring her. Can't blame him.
6:07 PM PT: Bachmann's answer to the foreclosure crisis is to tell moms across America to support their out of work husbands and "just hold on." It will all be better when Marcus is First Lady.
6:10 PM PT: Herman Cain tells the Occupy Wall Street protesters to turn their anger towards Obama and the White House. The crowd cheers and applauds Herman's comment that the protesters should "blame themselves" for not having a job or being rich. You gotta love the conservative compassion in these asswipes.
Herman really doesn't get OWS: "Do they want the bankers to come downstairs with checks in their hands?"
Ron Paul shames Cain for blaming the protesters – the real "victims" of this economy. This opens up the typical attacks on the Federal Reserve.
Rick Perry tries to back away from his past support of bailing out Wall Street. Romney supported TARP. Cain says TARP was a good idea but Obama (surprise) mismanaged it.
These guys do remember that TARP was a Bush plan, don't they?
 6:19 PM PT – Religion:
The crowd boos the fact that Rev. Jeffress claimed Mormonism was a cult. Like we said, Vegas is packed with Mormons.
Santorum explains religion: Romney's going to hell because he's a Mormon, but he's more than capable of being president.
Gingrich says faith is important in determing a candidate, which flies in the face of our Constitution, that states there shall NEVER be any religious test for public office in America.
It's funny that Gingrich would talk about faith, morals, and judgment considering his less-than honorable matrimonial history and religion shopping.
Rick Perry explains in a hapless, bumbling manner, why he won't apologize for Pastor Jeffress' condemnation of Mormonism. He then turns the topic towards what America has really lost faith in: Barack Obama. ((yawn))
Romney attacks the other candidates for even suggesting that there should be a religious test. Damn, I really don't want to respect Mittens.
 6:25 PM PT: Anderson Cooper can't shut Bachmann up. She's desperate for camera time to make her wacky claims.
Bachmann uses the recent Iranian assasination-for-hire plot to blame Obama for being weak on foreign policy and an embarrasment to the nation. That's because he actually stopped the plot.
6:28 PM PT: Newt Gingrich uses foreign policy to remind the rest of us why we're too stupid to know what's good for us. He then goes back to chewing on that chicken he found earlier.
Herman Cain told CNN earlier today that he would consider freeing prisons at Guantanamo in exchange for American hostages. He now says he would not negotiate with terrorists. Mostly because he realizes what a douche' he is and how he is completely out of his league even among these baffoons.
6:43 PM PT: Perry calls for defunding the United Nations because it's a "travesty."
6:44 PM PT: Who can beat President Obama
The crowd (of Mormons) goes wild when Anderson quotes the latest polls that show Mittens would be the only one with a slight margin (statistical error) over Obama.
Santorum reminds everyone that he's the only one on stage that has won a swing state twice…before he was finally ousted from office. Great track record Ricky.
Romney says those on stage who have spent their "lives in politics," verses Mitt who has spent his life trying to win a political election, are not prepared to beat Obama.
Perry touts his success ((cough)) with jobs in Texas as his main appeal in beating the president. Romney claims that half of all jobs created in Texas were for illegal aliens.
Herman Cain says that while Mitt's business experience was connected to Wall Street, his practical experience has been on "Main Street," because he once swept a parking lot.
Bachmann forgets her geography and claims Obama stretched us too thin by "putting us in Libya" and then "putting us in Africa." That would be a stretch except that Libya is in Africa.
6:51 PM PT: Bachmann and Gingrich break into a whinefest when Anderson says it's time to close the debate.
Bachmann quotes Ronald Reagan: "No pastels. Bold colors." She then repeats her rallying cry that Obama will be a "one term president."
Gingrich blames Andeson and CNN for the debate format where the candidates are forced to "bicker." It's his way of saying 'I'm obsolete and saying shit like this is the only way I can get noticed.'
–End of Debate–
I'm going to go shoot some craps and get drunk.