With front-runner status in the GOP primary polls changing every few weeks, it can be a challenge to keep up with who's on top. Fortunately, the current flavor-of-the-week, Newt Gingrich, has a long track record we can look at to glimpse the man who would be president. Unfortunately, Republicans refuse to admit what they know about the "real" Newt, choosing instead to overlook his lack of ethics, serial infidelity, and chronic lobbying to line his own pockets. What follows is by no means exhaustive, but it is an exhausting list of examples of why Newt is not qualified to be President.
The Malleable Newt
(or the two things you notice most about Newt are his face)
Although Newt now hearts The Donald, given Newt's earlier opinions, this looks like a marriage of convenience.
[Q]uotas send exactly the wrong signal to poor people. It says that they are going to get justice through political action and that justice is going to redress the past. That is simply, historically, not true.  It's not the way the world works. The more power there is in a political system, the more the powerful exploit it. New York hasn't ended up a dream world for the poor. It has become a place where Donald Trump manipulates the game. 
Newt not only flip-flops on cap-and-trade, he fibs about it…
"I've said publicly, sitting on the couch with Nancy Pelosi is the dumbest single thing I've done in the last few years. But if you notice, I've never favored cap and trade, and in fact, I actively testified against it."
February 2007  Interview on PBS's "Frontline" Gingrich said:

"I think if you have mandatory carbon caps combined with a trading system, much like we did with sulfur, and if you have a tax-incentive program for investing in the solutions, that there's a package there that's very, very good. And frankly, it's something I would strongly support."
 WATCH:
When Newt was director of a health care think tank, he supported end-of-life counseling by doctors serving Medicare patients:
"If [end-of-life-counseling] was used to care for the approximately 4.5 million Medicare beneficiaries who die every year, Medicare could save more than $33 billion a year."
A year later, Newt had a very different view when it came to Obama's plan to reimburse doctors for end-of-life consultations:
"You're asking us to trust turning power over to the government, when there clearly are people in America who believe in establishing euthanasia."
Newt flip-flops on waterboarding, which he now says is "not torture"…
"Waterboarding is by every technical rule not torture. [Applause] Waterboarding is actually something we've done with our own pilots in order to get them used to the idea to what interrogation is like. It's not — I'm not saying it's not bad, and it's not difficult, it's not frightening. I'm just saying that under the normal rules internationally it's not torture."
Newt said Mitt created jobs before he said he didn't:
WATCH: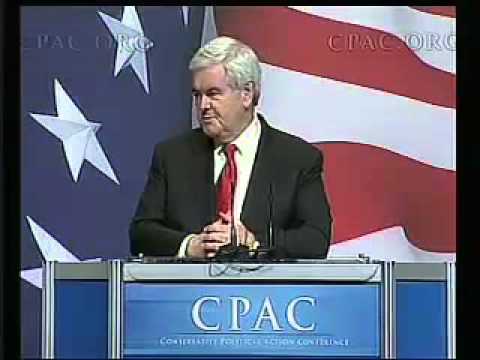 Newt first slammed Rep. Paul Ryan's Medicare plan as "right wing social engineering," then took it back and apologized to Ryan. He then declared that quoting his exact words about the plan was out of bounds:
"Any ad which quotes what I said on Sunday is a falsehood…"
Newt's multiple flip-flops on Libya: on the no-fly zone, on humanitarian aide, on air power, and on US involvement.
Newt was for addressing climate change before he was against it.
Newt has not only smoked pot, he has authored a bill to legalize the use of marijuana for medical purposes, but now he says "Places like Singapore have been the most successful at doing that (controlling illegal drug use)," apparently supporting mandatory death by hanging for possession of 18 ounces of pot.
New flip-flopped on when life begins.
Of course, Gingrich's view runs headlong into the Constitution — the Supreme Court held several decades ago that laws prohibiting contraception are unconstitutional. Sadly, however, the fact that banning birth control is unconstitutional won't matter one bit to Gingrich if he decides to ban it. Gingrich recently pledged to openly defy Supreme Court decisions he disagrees with, and he even endorsed a radical proposal to have Congress thumb its nose at the Constitution and simply declare that fertilized eggs enjoy the exact same rights as people.
Newt's far-Right friends have noticed his flip-flopping on abortion.
On health insurance reform, Newt new condemns his own ideas (he flip flops) including a "transfer of finances" and an individual mandate to achieve universal coverage . In his 2008 book, "Real Change," on page 276 we find:
"Finally, we should insist that everyone above a certain level buy coverage (or, if they are opposed to insurance, post a bond). Meanwhile, we should provide tax credits or subsidize private insurance for the poor."
Newt flip-flops on referendums  (he wanted one in 1995, he now calls them "unAmerican"). No word yet on how he feels about his pals using referendums to oppose gay rights.
Newt was for trying suspected terrorists in court before he was against it.
The ridiculously offensive
and offensively ridiculous Newt
Newt's best-known disgusting act is serving his wife with divorce papers while she was recovering from cancer surgery. The divorce freed him to marry his mistress, with whom he'd been cheating on his wife while she battled cancer.
Newt says advocates for gay rights are imposing a "gay and secular fascism" using violence and harassment.
Newt says child labor laws are  "truly stupid."
Newt says poor kids have no work ethics, except when it comes to crime, and that they should clean the bathrooms in their school to learn legal work habits. By the way, three out of four poor working-aged adults do actually work.
Newt held relief for the Oklahoma bombing victims hostage to force budget cuts.
Newt accused Supreme Court Justice Sonia Sotomayor of being a "Latina woman racist."
Newt blamed the Susan Smith crimes — the South Carolina mother who murdered her young sons in 1994 — on Democrats. Gingrich defended his comments by insisting he'd been saying the same thing for years: that Democratic rule had frayed the moral fabric of the country:
"We need very deep change if we're going to turn this country around." Asked directly if he was saying electing Republicans could stop killings like Smith's, he said flatly: "Yes. In my judgment, there's no question."
Newt said that opening an Islamic center in Lower Manhattan "would be like putting a Nazi sign next to the Holocaust Museum."
Newt suggested cutting welfare rolls by placing the children of welfare mothers in orphanages (something that no longer exists in the US).
Newt says "welfare" (unemployment insurance) makes people lazy.
Newt also blamed the Columbine and Virginia Tech killings on liberals.
At the National Rifle Association's 2010 annual meeting, Newt said
"The Second Amendment is not in defense of hunting. It is not in defense of target shooting. It is not in defense of collecting. The Second Amendment is in defense of freedom from the State."
The victim did it!  Newt says Democrats are to blame for the death threats against them during the healthcare reform debate:
 "I think the Democratic leadership has to take some moral responsibility for having behaved with such arrogance, in such a hostile way, that the American people are deeply upset. [...]. But I think the Democratic leadership has to take some real responsibility for having run a machine that used corrupt tactics, that bought votes, that bullied people, and as a result has enraged much of the American people. And I think it'd be nice for President Obama, Speaker Pelosi, and Majority Leader Reid to take some responsibility over what their actions have done to this country."
Unfortunately, this isn't the first time that Gingrich has accused his political opponents of provoking terrorism. After the tragic Virginia Tech shootings, he called on the "liberal elite" to "take responsibility" for creating a world where such tragedies were possible. And on the eve of the 2006 elections, Gingrich appeared on Fox News and said that the Democrats' "whole approach is to blame [America] for what, in fact, [terrorists] do. I think it tells you how deep the sickness is in the left wing of the Democratic Party." It appears now that Gingrich is blaming America in an attempt to rationalize right-wing terrorism.
Newt says Palestinians are an "invented" people:
"The Palestinians claim to a right of return is based on a historically false story…[...] Palestinian' did not become a common term until after 1977."

The Palestine Liberation Organization was in fact founded in 1964, capping off years of Palestinian cultural development from both before and after the 1948 Arab-Israeli War.
Newt dismisses pay inequality between men and women, worries instead about the future of men:
STUDENT: So I'd like you to clarify your stance on womens' rights. And I'd like to know what you'd do to ensure gender equality in the United States. Given that even today, women make 77 cents to every man's dollar.

GINGRICH: Well, the latter is going to change dramatically in the next generation because more women are going to college than men. And they're doing better than men and entering professions more than men. In fact, if anything, you'll be here in fifteen years wondering what we'll do about men inequality and male unemployment.
Newt's claim that food stamp recipients use their government aid to take trips to Hawaii earned him a "pants on fire" rating from Politifact. The claim is so obviously wrong, Politifact wondered if he was joking.
Newt blames his serial cheating and marriages on his love of Uncle Sam:
"There's no question at times of my life, partially driven by how passionately I felt about this country, that I worked far too hard and things happened in my life that were not appropriate."
Newt warns us of a coming "tsunami of violence" from terrorists and warning that Obama's "vision of the American Constitution is a mortal threat to our freedoms."
Newt's Republican references
To know Newt is to oppose Newt?  - Far-Right Sen. Tom Coburn (R-OK) says:
"I am not inclined to be a supporter of Newt Gingrich having served under him for four years and experienced personally his leadership. … because I found it lacking often times." 
Last year, Coburn said at a town hall meeting that the former Speaker is "the last person I'd vote for president of the United States. His life indicates he does not have a commitment to the character traits necessary to be a great president," Coburn said. And again last March, two months before Gingrich officially declared his run for the GOP nomination for president, Coburn reiterated his anti-Gingrich sentiment, saying, "We need somebody that's…stable."
To know Newt is to despise Newt?  - Former Rep. Guy Molinari (R-NY) says Newt  is "an evil person" who has "got all kinds of baggage." He also says, "The thought that [Gingrich] could be president of the United States is appalling."  
Conservative pundit George Will writes that Newt "embodies the vanity and rapacity that make modern Washington repulsive." Will jabs Newt for his "intellectual hubris" and "enthusiasm for intellectual fads" and says that Newt "would have made a marvelous Marxist, [believing] everything is related to everything else and only he understands how."
Conservative pundit Charles Krauthammer writes that "Gingrich has a self-regard so immense that it rivals Obama's — but, unlike Obama's, is untamed by self-discipline." He finds Newt's "[t]hinking of himself as a grand world-historical figure, attuned to the latest intellectual trend" downright comical.
Far-Right talking head Glenn Beck says that members of the Tea Party who support Newt are racists.
Far-Right talking head Michael Savage says that Newt is "nothing more" than a "fat, old, white man."
Conservative writer David Frum says,
"What presidents must inescapably do is respond to emergencies: eg, the financial crisis of 2008, the 9/11 terror attacks, the financial crises of 1997-98, the invasion of Kuwait, etc. And there, what usually ends up mattering most is not the president's philosophy, but his judgment, coolness and steadiness. Those are the grounds on which … Gingrich terrifies."
Conservative David Brooks writes:  "As nearly everyone who has ever worked with him knows, he would severely damage conservatism and the Republican Party if nominated."
Conservative Peggy Noonan called Newt "a human hand grenade who walks around with his hand on the pin, saying, 'Watch this!'"
Newt vs the Constitution
Newt thinks presidents can simply ignore Supreme Court rulings they don't like.
Newt says he would like to outlaw abortions.
Newt warms to the idea of the noose for drug possession, he seems not so hot on the Constitution.
Newt wants to drug test Americans before they get any kind of federal assistance.  Ignoring the Constitutional problems, the logistical nightmare, the lack of justifiable cause and the unjustifiable costs…
Newt trips — again — over the Constitution when it comes to immigration.
Newt vs Reality
Newt pushes the dust rule myth.
Newt says that when the United States "first created the federal income tax, frankly, nobody below a million dollars a year paid anything."  Actually a few million did.
Newt called for a federal law to stop the (nonexistent) onslaught of Sharia law and accused the left of refusing to acknowledge its "mortal threat to the survival of freedom in the United States and in the world as we know it."
Newt pushes the $16 muffin myth.
Newt said "Community banks … are being destroyed by Dodd-Frank" when they're actually doing much better.
Newt says the Dodd-Frank financial law requires a 20% down payment to buy a house. It doesn't.
Newt claims "For four years, we balanced the budget and paid off $405 billion in debt." Except he didn't.
Newt said in New York City, "an entry level janitor gets paid twice as much as an entry level teacher." They do not.
Newt says the congressional ethics investigation against him was conducted by "a very partisan political committee" in a way that "related more to the politics of the Democratic Party than to ethics."  Politifact rates this one as "pants on fire."
Newt said "We spend less on defense today as percentage of GDP than at any time since Pearl Harbor." Again,  "Pants on fire."
Newt said Sarah Palin was right that President Obama's health care bill created what "would, in effect, be death panels."  Another "pants on fire."
Newt said an Obama executive order could "lead to a number of investigations by Interpol in the United States, potentially aimed at American officials."  "Pants on fire."
Newt charged that inside the Democrats' stimulus package was "anti-Christian legislation that will stop churches from using public schools for meeting on Sundays, as well as Boy Scouts and student Bible study groups."  Yep, "pants of fire."
Newt claims that when he left office (resigned in disgrace), unemployment had fallen to below 4%.  Except it hadn't.
Newt charges that President Obama "has now spent three years proving that he kills jobs in energy, he kills jobs in manufacturing." Actually both sectors have done rather well under Obama.
Newt's claim to have 1.3 million followers on Twitter turned out to be as fake as many of his followers.
Newt claims that Democrats in Congress "had control since January of 2007. They haven't passed a law making waterboarding illegal. They haven't gone into any of these things and changed law." Actually, the Dems passed the law, but President Bush vetoed it.
Newt's unsettling silliness
He's telling the truth!  - Newt says Fox pundits don't need to know what they're talking about. Truth hurts.
Newt Gingrich says we should "celebrate" corporate tax dodgers.
In 2010, Gingrich wrote a book arguing that the Obama administration "represents as great a threat to America as Nazi Germany or the Soviet Union once did."
Newt says President Obama has "a Kenyan anti-colonial mindset" like his Kenyan father.  Obama barely knew his Kenyan father.
Newt wants a moon colony and mirrors in space to light up our nights.
Newt says we should let rich people decide how long their tax cuts last. Funny, I thought we already did.
Newt says the fact that people are not rhinos proves God must exist.
Economist Paul Krugman reminds us:
…as House speaker, Mr. Gingrich personally tried to ram through deep cuts in Medicare — and, in 1995, went so far as to shut down the federal government in an attempt to bully Bill Clinton into accepting those cuts.
Newt speculates about hidden messages from God in snowstorms.
Newt says we should live in fear, or so he said on Meet the Press:
Let me just say, I think people should be afraid. I think the lesson of 1993 — the first time they bombed the World Trade Center — was: Fear is probably appropriate. I think the lesson of Khobar Towers — where American service men were killed in Saudi Arabia — was: Fear is probably appropriate. I think the lesson of the two embassy bombings in East Africa was: Fear is probably appropriate. I think the lesson of the Cole being bombed in Yemen was: Fear is probably appropriate.
David Gregory asked:
But, Speaker Gingrich, you make the point about how Vice President Cheney felt — personally, personal fear. And isn't President Obama's argument that fear as a basis of national security policy is not sustainable over time? How do you come up with a sustainable legal framework, a sustainable national security policy? Don't we elect leaders to transcend fear for lasting policy?
Newt says the Obama administration is "waging war against democracy."
Newt wants Bolton as Secretary of State.
Newt says the very idea of a 99% and a 1% is "unAmerican" and "historically false."
Newt very much wants to privatize Social Security.
When Newt shut down the government in 1995, he did so at least in part because President Clinton allegedly seated him in the rear of Air Force One on a flight home from a foreign state funeral. He told reporters the "snub" was "part of why you ended up with us sending down a tougher continuing resolution."
In 2011, Newt said he feared his grandchildren would grow up "in a secular atheist country, potentially one dominated by radical Islamists and with no understanding of what it once meant to be an American."
Newt's glass house and pile of stones
Newt accuses President Obama of "class warfare" when he's run up a half-million dollar tab at Tiffany's.
Newt was leading the drive to impeach President Clinton over lying about adultery when he cheating on his second wife with a staffer who became his third wife (he had also cheated on his first wife with his eventual second).
Newt's second wife, in a 2010 interview with Esquire, claimed, "He believes that what he says in public and how he lives don't have to be connected. … If you believe that, then yeah, you can run for president."
Newt called for the jailing of Chris Dodd and Barney Frank:
"In Barney Frank's case, go back and look at the lobbyists he was close to at—at Freddie Mac.… Everybody in the media who wants to go after the business community ought to start by going after the politicians who have been at the heart of the sickness which is weakening this country."
We're supposed to ignore, I guess, that Freddie Mac paid Newt more than $1.5 million as an "historian.
Newt attacked Democratic Speaker Jim Wright, claiming that bulk sales of Wright's book skirted laws limiting outside income for members of Congress, then found himself in a very similar position — pocketing a $4.5 million advance from HarperCollins in a two-book deal. To make the whole thing even shadier, one of Gingrich's charities had bought the books en masse.
Newt rose to power in the '90s by running against alleged Democratic corruption, but soon faced multiple accusations before the House Ethics Committee. Gingrich eventually had to pay a $300,000 fine for misusing his tax-exempt foundations for political gain – making him the only House speaker in American history to be disciplined by Congress for ethics violations.
Comments
comments