Boehner and Cantor have come up with a convoluted procedure reminiscent of 'deem-and-pass' from 2010 to allow their caucus members to reject the deal while still being able to tell voters they didn't reject the deal.
Vince Morris, a spokesman for Senate Commerce Committee Chairman Jay Rockefeller (D-WV) notes the irony.

"Speaker Boehner says it's important that the Senate agree to sit down and conference out the differences between the House and Senate payroll tax extension bill," Morris says. "It's worth noting that for nearly a year, Boehner has steadfastly refused to appoint conferees on the FAA bill. Chairman Rockefeller has asked repeatedly for the Speaker to appoint conferees. Instead he has been satisfied with a series of short term extensions. In fact, the latest short term extension expires in barely a month. If short term extensions are fine for the FAA, what's wrong with a 2 month payroll extension?"
Today Mitt Romney says he is for the full repeal of "Obamacare." And he's created a tightly woven explanation of just how his reform in Massachusetts differs from President Obama's national plan. As Romney now tells it, his approach was always different in kind from President Obama's, especially because the president's plan imposed a mandate nationwide. There was never a point, even going back to his days as Governor, when he would have supported Obama's approach.

But a year and a half ago, that was far from clear. Then Romney was one of those Republicans who called for keeping the 'good' parts of the president's plan while ditching the bad. And now a video has surfaced in which Romney makes clear that one of those 'good' similarities was the mandate which is now the centerpiece of conservative opposition to the plan.
WATCH: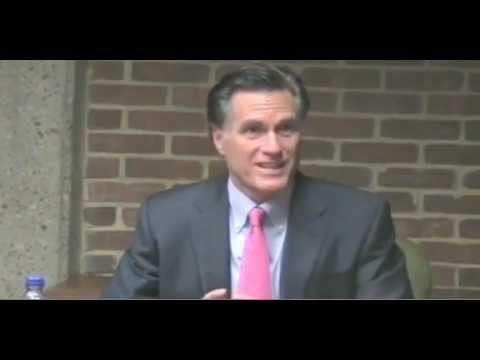 Drilling for oil is challenging even under "normal" circumstances, so it's pretty much inevitable that in the extreme conditions presented by the Arctic, some of this stuff is going to escape, and there might even be a catastrophic spill. What's that going to look like?
Remember, Obama's State Dept. has already said in no uncertain terms that if it is forced to accelerate its decision, it will not have time to do a proper environmental review and will thus reject the pipeline. The GOP is forcing State to accelerate the decision. Thus, the State Dept. is going to reject the pipeline.

Again: The GOP has likely ensured that the Keystone XL pipeline will be rejected.
WATCH:
"…the Gini coefficient for the ancient Roman Empire was 0.42–0.44, slightly lower than today's 0.45.

Of course an interesting exercise would be to try to think about this in human welfare terms rather than in monetary terms. The past would arguably have been extremely egalitarian in welfare terms simply because the overall living standards were so low compared to today. No air conditioning, no out-of-season food, no air travel to visit family in a different city, no penicillin if your kid gets sick. "
Comments
comments