Ron Paul is once again having to explain racist content that appeared in newsletters bearing the congressman's name in the late 1980s and early 1990s. The GOP presidential nominee is not only trying to downplay the questionable material, but is now blaming the media for bringing it up, and his denials and explanations fly in the face of his once honest and ethical reputation for telling the truth.
The newsletters went under several names: Ron Paul's Political Report, Ron Paul's Freedom Report, and the Ron Paul Survival Report. As Michael Dougherty from The Atlantic points out:
The documents, which include harsh, prejudiced attacks against the black community, are evidence of a libertarian movement trying to find an audience. 

There is no doubt that the newsletters contained utterly racist statements.

[...]

Other newsletters had strange conspiracy theories about homosexuals, the CIA, and AIDS.
Portions of the questionable material included:
"Given the inefficiencies of what DC laughingly calls the criminal justice system, I think we can safely assume that 95 percent of the black males in that city are semi-criminal or entirely criminal."
"We are constantly told that it is evil to be afraid of black men, it is hardly irrational."
After the Los Angeles riots, one article in a newsletter claimed, "Order was only restored in L.A. when it came time for the blacks to pick up their welfare checks."
One referred to Martin Luther King Jr. as "the world-class philanderer who beat up his paramours" and who "seduced underage girls and boys."
Another referred to Barbara Jordan, a civil rights activist and congresswoman as "Barbara Morondon," the "archetypical half-educated victimologist."
As he did in the 2008 presidential primary, Paul insists that he didn't write the material, and is not sure who did. But the fact remains that the newsletters and the content carry the congressman's name. And he's only adding insult to injury by pointing the finger at everyone but himself.
As we said, all of this flies in the face of Ron Paul's image of an honest and upfront guy, but is important to examine for that very reason, as James Kirchick wrote this week in The New Republic:
This sordid history would not bear repeating but for the fact that the media love to portray Paul as a truth-telling, antiwar Republican standing up to the "hawkish" conservative establishment. Otherwise, the newsletters, and Paul's continued failure to name their author, would be mentioned in every story about him, and he would be relegated to the fringe where he belongs.
Ron Paul's explanations of his newsletter problem don't quite add up…
In addition to the objectionable content of the newsletters, his odd explanation contrasts heavily with his hard-earned brand as an unconventional anti-politician who always tells the truth as he sees it and never waters down his views to pander to voters. It's hard to square this with a candidate who claims that he somehow never bothered to read a newsletter published under his own name that generated as much as $1 million in revenues in just one single year. Even accepting that premise, how many politicians looking to start a publication would just happen to pick a half dozen writers with blatant white supremacist and militia leanings to run the effort?
Maybe part of Ron Paul's problem is that he flunked Civil War history…
Representative Ron Paul (R-TX), the nationalist/anti-interventionist/libertarian presidential candidate with a penchant for publishing racist newsletters would probably have done well to keep his views on the Civil War to himself rather than denouncing Abraham Lincoln and calling it a "senseless" conflict back during the 2008 cycle.
WATCH this 2008 Meet the Press appearance by Paul: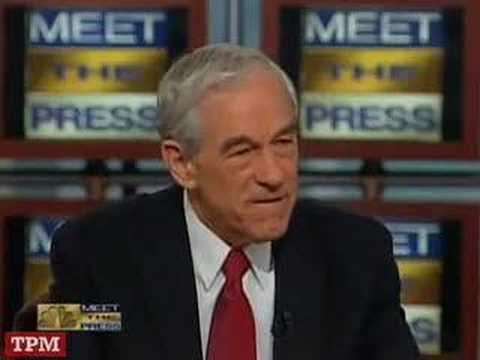 Comments
comments