I've spent a lot of time looking at the positions of Ron Paul. I have no idea what attracts the youth of America to him. I can't fathom what some of his supporters on the left (including, surprisingly, some in the Occupy Movement) are thinking, particularly since he's in favor of eliminating Medicare, Social Security and Medicaid; is emphatically pro-life; anti-immigrant; and anti-gay. Perhaps his attraction stems from the fact that he just doesn't exactly fit neatly on either side of the political aisle. Or perhaps it's because of his position on global intervention, which is the singular area where I agree with him. (It should be noted that Dennis Kucinich and Daniel Ellsberg both agree with Ron Paul as well.) However, on the whole, I believe people haven't delved deep enough into just exactly who Ron Paul is and what he stands for in other areas. Whatever it is that attracts people, Ron Paul is the master of confused double-speak. But what the hackers group "Anonymous" has revealed about Ron Paul should put the nail in the coffin of his public service, let alone his run for the highest office in the land.
In the last few days, "Anonymous" has managed to hack into and shut down several neo-Nazi web sites owned by Jamie Kelso, a white supremacist who was once David Duke's personal assistant and who was the moderator of Stormfront, Don Black's white supremacist web site. Under Kelso, the Stormfront site grew from its 2002 membership of 5,000 to about 203,000 registered members by 2010. In 2010, Kelso joined the racist political party the American Third Position. He is an active behind-the-scenes operative.
While trashing Kelso's site, "Anonymous" has alleged that it found emails from Kelso that prove that Ron Paul has met with members of American Third Position, and that Paul has been on several conference calls with its Board of Directors. It is no secret that Kelso is a Ron Paul supporter and organizer. It's right out there on the web on his Voice of Reason site. Not only has Paul been photographed with Jamie Kelso , but he has also been photographed with Don Black.
Here is a portion of the text of the manifesto that "Anonymous" placed on the hacked site:
In addition to finding the usual racist rants and interactions with other white power groups, we also found a disturbingly high amount of members who are also involved in campaigning for Ron Paul. According to these messages, Ron Paul has regularly met with many A3P members, even engaging in conference calls with their board of directors. Ron Paul's racist politics and affiliations are already well known, being viciously anti-immigrant, anti-abortion and against gay marriage — not to mention having authored the racist "Ron Paul Papers" and receiving financial support from other white power groups (pictured with Don Black from stormfront.org). Hard to believe Ron Paul draws some support from the left and the occupation movements, especially now that it is confirmed Ron Paul hangs out with straight up racist hate groups.
Some of the texts of the emails can be found on the web. Here is one example (from Jamie Kelso in 2011):
"I'll be at CPAC from Feb. 9 to Feb. 12. I'll send back reports to you from personal meetings with Ron Paul, newly-elected Senator Rand Paul and many others. It'll be here on WhiteNewsNow, a place that is really starting to get interesting because of the presence of folks like you. Birds of a feather flock together, and we are really gathering some quality here."
No surprise here
While the "Anonymous" hacking shows implicit ties to white supremacists, the information on Ron Paul has been out there. All you need to do is look. I suspect that many people who support Paul will remain in denial.
Ron Paul either associates with or is supported by a group of very suspect individuals, as indicated on newsone.com. One of these ten is William Alexander "Bill" White, who stated that he decided to come forward and tell the truth about Ron Paul's involvement in the white supremacist movement because Paul's denials were disingenuous. White states:
"Both Congressman Paul and his aides regularly meet with members of the Stormfront set, American Renaissance, the Institute for Historic Review, and others at the Tara Thai restaurant in Arlington, Virginia, usually on Wednesdays. This is part of a dinner that was originally organized by Pat Buchanan, Sam Francis and Joe Sobran, and has since been mostly taken over by the Council of Conservative Citizens.

I have attended these dinners, seen Paul and his aides there, and been invited to his offices in Washington to discuss policy."
Paul also promotes revisionist Civil War History in his "South Was Right" speech made in front of a giant Confederate flag. This speech originally appeared on the site Patriot Review, but his supporters wanted it taken down because they were nervous it would tarnish his image. Patriot Review wanted to leave it up because they believed it would help Paul in the South Carolina primary. Thankfully, a copy of the original was downloaded by blogger Charles Johnson and it appears on his site.
WATCH (story continues below the video):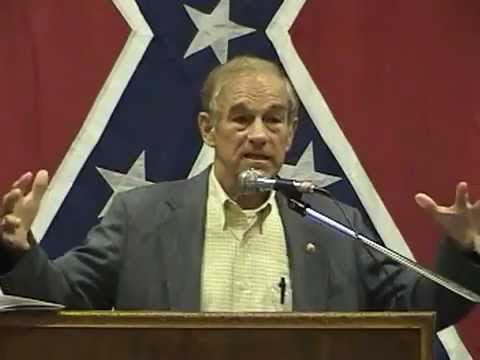 In the mid- to late 1980s, Paul published a series of newsletters, on investment, survivalism and politics. They contain some pretty dicey material, much of it racist. While Paul has stated he didn't write the material (he had others helping him), it's hard to believe that he would allow this to be published under his name without taking a look at the final content. That seems a bit more than absurd and, if it's true, then he's an incompetent for not managing the material being sent out.
Ron Paul has also stated that he would not have voted for the Civil Rights Act of 1964 because it was an unconstitutional infringement on liberty and, in 2006, he joined 32 Republicans in voting against renewal of the Voting Rights Act, which was originally passed to remove barriers to minority voter participation.
In spite of Ron Paul's denials and his followers' continued blind allegiance, it's tough to believe that Paul is not consorting with members of the white supremacist movement. There is simply too much information out there to make his denials plausible. There is no place for this type of public servant in America.
Comments
comments