Serial philanderer and newly-devout Catholic Newt Gingrich has gone public and said that Barack Obama's contraception mandate is officially declaring war on religion. In fact, Obama has the chutzpa to think he's more important than the Pope!
WATCH (story continues below the video):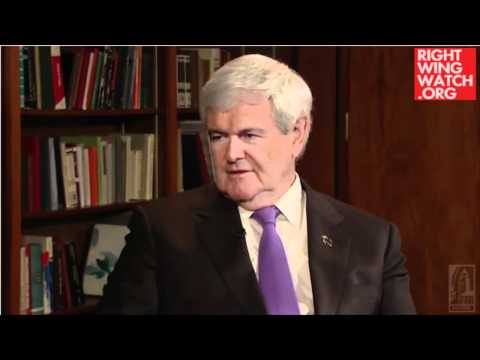 Well Newt, frankly, he is. He is because, contrary to what the Christian conservative-pandering GOP right-wingers want you to believe, this is a secular nation. It is not a Christian nation, and certainly not a Catholic nation. Our guiding principles are laid out in what we call the U.S. Constitution and the Bill of Rights, not in the Old and/or New Testament. That's my story and I'm sticking to it.
Newt Gingrich seized this moment in response to President Obama's mandate that employers include free birth control as part of their health care plan. That mandate would include schools, charities and hospitals with religious affiliations. Of course, religious institutions (and the GOP, of course) took issue with that. In response, President Obama once again compromised (in deference to the GOP) and compelled the insurance companies to provide contraception.
Speaking as a Catholic (non-practicing, I might add), the roots of the birth control ban go back as far as the Bible. Hey, I spent fourteen years in Catholic school. I have intimate knowledge of the Bible. The first mention of the whole anti-birth control message was in Genesis when Onan was instructed to sleep with his brother's widow. Unfortunately, Onan pulled out before he could impregnate her. What thanks did he get? He was smote. See, Onan somehow missed that the whole purpose of getting married and having sex is to pro-create. Period. That's the Catholic mandate, as it were. Sex is not for pleasure. (Really?) It's to populate the earth. I hate to be the bearer of bad tidings, but abstinence is a sin as well. So, pro-creation is serious business to the Catholics. It's so serious that the Vatican has never even entertained the thought of changing its position, even though it's now 2012 and there are approximately 313,041,342 people in the United States and 6,995,217,401 people on the planet Earth as of this writing.
Let's look at this from the standpoint of reality, not religious or GOP illusion. The majority of research shows that 98% (let me spell that in case numbers are a challenge to the GOP: Ninety-eight percent) of sexually-active Catholic women actually use birth control, religion be damned. Why might that be? Well, there could be any number of reasons. Maybe they already have enough children. Maybe they don't want children at all and prefer to sin and let the Big Guy sort it out after Armageddon. Maybe they're not married and are just sexually active. (Oh. My. God.)
Here's the deal on the Bible. While many devout Catholics and Jews actually believe that God gave the Bible to Moses on Mt. Sinai, the facts are quite different. (See, that's the problem I have with 'faith' to begin with.) Although it's tough to pinpoint with accuracy just how old the Bible is and who the author(s) was, the fact is that it was written a very long time ago for a very different world. And it was most likely written by as many as 40 different people. I am sure that back in the day (oh, say, starting around 950 B.C.) the authors of the Bible could not even have imagined the world in 2012, let alone written instructions on how to live in it. So folks, this is why we don't base government and legislation on the Bible, and this is why the Pope doesn't reside at 1600 Pennsylvania Avenue.
The bottom line on the whole issue of contraception is that employers have been given a mandate to include free birth control in their health care plans. Regardless of whether you are affiliated with a religious organization or not, you are an employer. Those you serve (read: your customers) are not always going to be of the same religious persuasion. Hell, your own employees may not be. If you do not believe in birth control, don't use it. If you don't believe in abortion, don't have one. Religion is a personal and private matter. It is between you and whomever your god might be. From that perspective, the church (any church) has every right to counsel its congregation as it sees fit. However, contrary to the GOP's belief, the church (any church) does not have the right to dictate legislation, and our government does not answer to religious authorities. Period. 
We are a nation of people with diverse religious beliefs. We are also a nation that allows freedom from religion. In fact, it is estimated that 16% of the 313,041,342 American citizens do not believe in God at all. (That would be about 50,086,614 people.) What we need to do is take religion out of all forms of government and legislation, and provide what the people mandate. If 98% of practicing Catholic women use birth control, I'd call that a mandate. If the church, any church, would like to continue to participate in the legislative process then I suggest that their 501(c)(3) tax exempt status be revoked.
Comments
comments