As a person who never had the opportunity to attend college, I really take offense to the implication of Rick Santorum's recent comments to a group of Teabaggers about President Obama and – Gasp! – the idea of making education affordable and accessible to all:
"President Obama once said he wants everybody in America to go to college. What a snob. Not all folks are gifted in the same way. Some  people have incredible gifts with their hands…there are good decent  men and women who go out and work hard every day and put their skills to  test that aren't taught by some liberal college professor trying to  indoctrinate them. Oh, I understand why he wants you to go to college.  He wants to remake you in his image. I want to create jobs so people can remake their children into their image, not his."
WATCH (story continues below the video):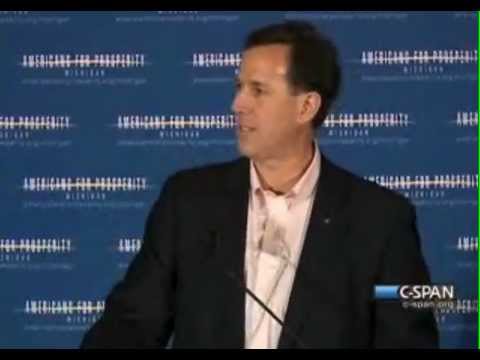 I was never afforded the chance to attend college because I was raised by a woman who is also a member the right-wing's Tin-Foil Hat Brigade, and who also believed that the educational system was a method of indoctrination, poisoning the minds of the nation's children, one rugrat at a time, and believe me, not having a college education is tough; as a recently laid off, fortysomething woman, I would give just about anything to have a degree, because the fact that I don't have one has made it very difficult for me to find full time work in this tight jobs market.  And I know I'm not alone in that particular boat.
But that's not what really pisses me off about the knuckle-dragger's comments.  What pisses me off is the inference that people should just be happy with their station in life; that bettering yourself through education, or expanding your mind and your life through learning and experience is somehow wrong or improper or—even worse – arrogant. Education used to be a cornerstone of the American Dream, for god's sake.
But not in Santorum's America.
For obvious reasons, Santorum is the last person who should be talking about this subject. First of all, discussing education with a group of Tea Partiers who listen to everything but fact should have been a paradox, and I'm still trying to figure out why the universe didn't implode; secondly, Mr. Stick-Or-Something-Else-Up-His-Ass has three degrees: a Bachelor's degree, a law degree and an MBA. Actually, that should be a universe-ending paradox as well. Anyone with that amount of education couldn't possibly be this stupid, right?
Unfortunately for us – and probably his former teachers and professors – he is that stupid, and he's mixed his stupidity with a lethal dose of twisted religious dogma. Because I will tell you, as someone who was raised in this sort of environment, a twisted form of religion is behind this ridiculous and outlandish rhetoric, and it is what makes Santorum say moronic crap like this:
"62 percent of kids who enter college with some sort of faith commitment leave without it."
Well, I hate to burst your bubble, Mr. Frothy, but once again, you have produced nothing but a steaming pile of bullshit, and there are not one, but two studies to prove it. The first study, published in 2007 by Mark D. Regnerus, assistant professor of sociology and a faculty research associate in the Population Research Center at the University of Texas at Austin, found the following:
The assumption that the religious involvement of young people diminishes when they attend college is of course true: 64 percent of those currently enrolled in a traditional four-year institution have curbed their attendance habits. Yet, 76 percent of those who never enrolled in college report a decline in religious service attendance.

[…]

Whereas 20 percent of those that did not pursue college renounced any and all religious affiliation, only 13 percent of four-year college students had done the same. Thus, the assumption that a college education is the reason for such a decline gathers little support. The results remain the same even when we employ multiple regression models to account for other factors that might explain the college-religion relationship (such as age, marriage, drinking habits, and sexual behavior, to name a few). Simply put: Higher education is not the enemy of religiosity. Instead, young people who avoid college altogether display a more precipitous drop in their religious participation. So if a college education is not the secularizing force we often drop in their religious participation.
Then there's this 2006 study from Harvard's Institute of Politics, which found these results:
Seven in ten college students today say religion is important or very important in their lives. What's more, a quarter of students (25%) say they have become more spiritual since entering college, as opposed to only seven percent (7%) who say they have become less spiritual.
Honestly, I cannot believe this is an issue with this dude. He takes crazy-pants to an entirely new level, and his politics of social regression, mixed with toxic religion, and a healthy dose of vulture capitalism thrown in for good measure, are a recipe for disaster for this country.
Well, unless you want to live in the decrepit 12th Century for real…
Comments
comments