In Rick Perry's Texas, a courageous judge takes a stand on same-sex marriage
In Texas they've made it clear that they do not recognize same-sex marriage or civil unions via Senate Bill 6, the Texas version of the Defense of Marriage Act (DOMA). Perry signed it into law in 2003. But that wasn't enough for Perry. In 2005, Perry sought a constitutional amendment that defines marriage as "the union of one man and one woman." The Texas voters overwhelmingly passed it.
Hell, Texas is so busy with other laws – like those that allow college students to carry guns, requiring women to view ultrasounds prior to having an abortion, and legislation to prevent state courts from applying Islamic sharia law (say what?) – that they're having difficulty finding the time to repeal the anti-sodomy laws. This is the Texas where Judge Tonya Parker lives and works.
Judge Parker is the first openly gay African-American elected official in the state's history. She recently told the Dallas Voice that she refuses to perform heterosexual marriages because, according to Parker, "it is not an equal application of the law. Period." On February 21 she addressed the Stonewall Democrats of Dallas (video below), and explained that she uses her office to provide couples wanting to be married a lesson on inequality.
"I use it as my opportunity to give them a lesson about marriage inequality in this state because I feel like I have to tell them why I'm turning them away. So I usually will offer them something along the lines of 'I'm sorry. I don't perform marriage ceremonies because we are in a state that does not have marriage equality, and until it does, I am not going to partially apply the law to one group of people that doesn't apply to another group of people.' And it's kind of oxymoronic for me to perform ceremonies that can't be performed for me, so I'm not going to do it."
WATCH (story continues below the video):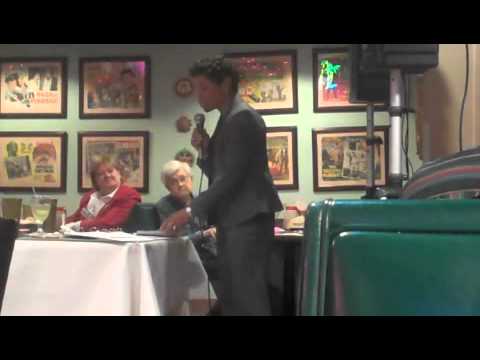 Although Judge Parker passes marriage requests on to other judges so that people can get married, she is coming under fire from – you guessed it – conservative preachers. One such preacher said, "This judge is free to perform marriages or not perform any marriages she chooses. And her constituents are free to throw her out of office in the next election if they choose to do so." (Them's fightin' words.)
Two days following her address to the Stonewall Democrats, Judge Parker issued this statement to the media:
"I faithfully and fully perform all of my duties as the Presiding Judge of the 116th Civil District Court, where it is my honor to serve the citizens of Dallas County and the parties who have matters before the Court.

Performing marriage ceremonies is not a duty that I have as the Presiding Judge of a civil district court. It is a right and privilege invested in me under the Family Code. I choose not to exercise it, as many other Judges do not exercise it. Because it is not part of our duties, some Judges even charge a fee to perform the ceremonies.

I do not, and would never, impede any person's right to get married. In fact, when people wander into my courtroom, usually while I am presiding over other matters, I direct them to the Judges in the courthouse who do perform marriage ceremonies. If my deputy is not busy, I will even ask him to escort or help these individuals find another Judge who performs the ceremonies. I do this because I believe in the right of people to marry and pursue happiness."
Although her position may cost Judge Parker her career in the long term, she is undeterred. In a state like Texas, you have to admire her courage.
PLEASE support Judge Parker's re-election campaign and help her in battling the onslaught of Conservatives attempting to defeat her. Please visit her campaign website HERE.
Comments
comments