This is quite the exodus we're witnessing. As we've been updating you on since last week, ColorOfChange.org has launched a campaign against the super-secretive American Legislative Exchange Council, or ALEC, in response to their model legislation on voter ID laws and the "stand your ground" laws. So far, Coke, Pepsi, Kraft Foods, the Bill & Melinda Gates Foundation, and Intuit have ditched the organization, and have now been joined by McDonald's and Wendy's.
Wendy's announced their decision via Twitter, saying:
"We decided late 2011 and never renewed this year. It didn't fit our business needs."
Short and to the point.
McDonald's, on the other hand, is a little murkier. They said that as of the end of March, they are no longer a member, in an email to The Huffington Post:
"We're trying to correct the misinformation. We were a member last year and made the business decision not to renew in 2012," McDonald's spokesperson Ashlee Yingling wrote in an email to The Huffington Post. "Unfortunately, information found on many websites is outdated."
But just a month before, they defended their ALEC membership in a letter to ColorOfChange.org, saying:
"McDonald's is a member of the American Legislative Exchange Council (ALEC). It is important to note that while McDonald's is a member of ALEC's Commerce Committee, we are not a member of ALEC's Private Enterprise Board which recently passed the "Voter ID" model legislation."
I think it's safe to say that they bowed to public pressure and the specter of a social media boycott disaster waiting in the wings.
So, who else remains?
The entire list of corporate members can be found here, but here are some of the more recognizable companies deserving of attention:
Amazon.com
Anheuser-Busch
AT&T
Bank of America
Bayer
Blue Cross/Blue Shield
Bristol-Meyers
Caterpillar
Century Link
Comcast
Coors
Dell
FedEx
Frito-Lay
GEICO
JC Penney
Johnson & Johnson
Nestle
Outback Steak House
Penzoil
State Farm Insurance
Time Warner Cable
UPS
Verizon
Walgreens
WalMart
Waste Management
And, in case you needed to know what kind of people sit on the various boards of ALEC, feast your eyes and ears on one William Howell, the House Speaker of Virginia, who is a national board member of ALEC and was its 2009 national chairman. In an exchange with Anna Scholl of ProgressVA, which released a report in December detailing the legislative influence of ALEC, Howell had this to say to Scholl when pressed to name one inaccuracy in their report:
"I guess I'm not speaking in little enough words for you to understand."
Wowza…what a sexist little charmer he is!
WATCH Howell's exchange with Scholl and her ABSOLUTELY BRILLIANT response: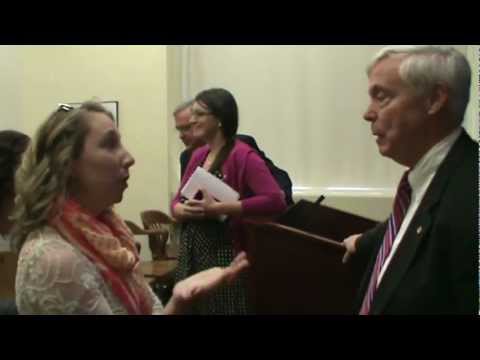 Comments
comments