There were a couple of stories that hit the blogosphere this week that should send a shudder down the spines of each and every citizen. They're an indication that, when backed into a corner, the right-wing has no qualms in lashing out in violence, even against their own children. In fact, they endorse it, they support it, and they are willing to preach it from the pulpit and over the airwaves.
The first comes from one Sean Harris, a North Carolina pastor of the Berean Baptist Church in Fayetteville, who advised his congregation thusly:
"So your little son starts to act a little girlish when he is four years old and instead of squashing that like a cockroach and saying, 'Man up, son, get that dress off you and get outside and dig a ditch, because that is what boys do,' you get out the camera and you start taking pictures of Johnny acting like a female and then you upload it to YouTube and everybody laughs about it and the next thing you know, this dude, this kid is acting out childhood fantasies that should have been squashed.

"Can I make it any clearer?

"Dads, the second you see your son dropping the limp wrist, you walk over there and crack that wrist. Man up. Give him a good punch. Ok? You're not going to act like that. You were made by God to be a male and you are going to be a male. And when your daughter starts acting too butch, you rein her in. And you say, 'Oh, no, sweetheart. You can play sports. Play them to the glory of God. But sometimes you are going to act like a girl and walk like a girl and talk like a girl and smell like a girl and that means you are going to be beautiful. You are going to be attractive. You are going to dress yourself up.'

"You say, 'Can I take charge like that as a parent?' Yeah, you can. You are authorized. I just gave you a special dispensation this morning to do that."
LISTEN (story continues below the video):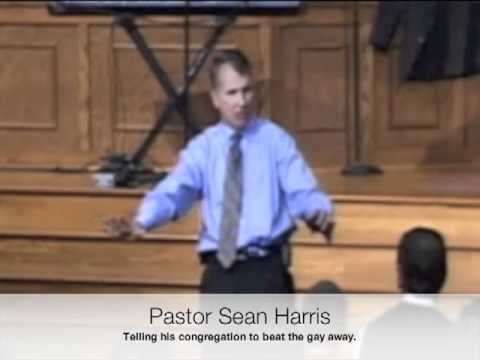 No, you couldn't make it any clearer. Let's just say it's crystal clear what your intentions are, and those intentions are horrific and an abomination. But thank you for showing your true colors.
The second comes from Cleveland, where a radio DJ, one Dominic Deiter, endorsed rape as a "cure" for a listener's daughter, after said listener caught his daughter kissing another girl:
"You should get one of your friends to screw your daughter straight."
The Gay and Lesbian Alliance Against Defamation (GLAAD) was a little more measured in their response than I'm about to be:
"This is not okay.  Not on any level, and not in any context.  We trust that the majority of fair-minded Americans will agree. Make no mistake, if this young woman is, in fact, gay – or if she's simply not interested in having sex with any of her father's friends, then what Dieter is suggesting is rape."
It would be easy to address these two men with an epithet-laden post of "fuck yous" and "you're an asshole" and "what a piece of shit," but in a way, that would diminish their words and relegate those words to simple crazy-speak.
No, that's too easy…
People like Harris and Deiter are a cancer on the face of society. They are abhorrent human beings and should be sloughed off like so much waste. They are the sewage in the body of this country and they are a poison, a black heart at the core of this nation that should be excised. There aren't enough words in the English language to describe how utterly reprehensible and disgusting these people are.
These two men are an affront, a disgrace to humanity. They are the worst of us, the basest part of human ego made manifest in human form.
Comments
comments