So far, Mitt Romney has released only his 2010 Federal Income Tax returns and nothing more. People across America are becoming increasingly uneasy about what is unknown about this candidate. What on earth does he have to hide? When someone decides to run for the highest office in the free world, full disclosure is not that candidate's "personal decision"! It is a national imperative. Here is what The Stew found on Mitt Romney's 2006 financial disclosure form. We, the electorate of the United States of America demand to see more.
| | | |
| --- | --- | --- |
| COMPANY | INVESTMENT | INCOME EARNED |
| Gazprom | $250,000 | unknown |
| Gazprom & Cnooc Fund (Ann Romney) | unknown | $1 million |
| Lukoil Stock | unknown | $100,000 |
| Sinopec | $100,000 | $15,000 |
The Iran Connection
If any of the above was part of Barack Obama's investment portfolio, the Right Wing would be going nuts. Rush Limbaugh and Glenn Beck would be frothing at the mouth. Mitt Romney would be doing his robotic "lumber to the left, then to the right while smacking his lips" rant about how un-American Barack Obama is. They'd be calling him Israel's Muslim enemy. Yet Mitt Romney invests in Iranian oil, and pumped money into the economy of Israel's enemy in 2006, even after Mahmoud Ahmadinejad called for the annihilation of Israel in 2005.
But let's not let a few million in Iranian investments get in the way of our self-righteous outrage! During his 2007 electioneering, Mitt Romney railed against Ahmadinejad, and against states like California and New York, whose pension funds invest in companies that do business with Iran:
WATCH (story continues below the video):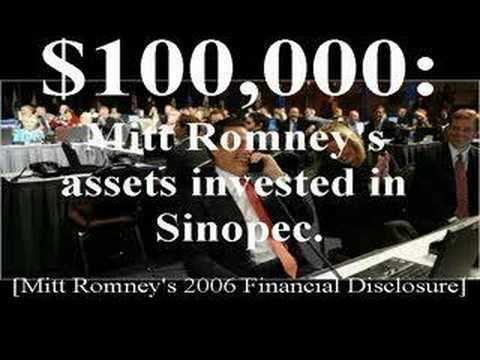 "We don't want to give a signal of support or accomplishment to someone like Ahmadinejad. Instead, we want to tighten the economic sanctions. Today, by the way, I wrote a letter to the comptroller of New York State, and said "I hope you would take a very careful look at all the investments of your pension fund. I'd like to make sure that all the pension funds in this country, and New York State in particular – in this letter – that your pension funds disinvest from countries doing business in Iran. We want to squeeze the pressure on this country and get them on the right track."
All this, as he continues to personally enrich himself with significant investments in Iran. The speech was delivered during the election for which he submitted the 2006 disclosure showing active investments in companies (ahem!) doing business in Iran. Does he not give new meaning to the term "sanctimonious hypocrite"?
Today, Mitt's shameless hypocrisy continues to astound, even as he sabre-rattles against Iran. This year, Mitt promises to check Iran's nuclear ambition – even though he pumped his money into the very economy that sustains it. Although Gazprom and Lukoil are oil companies headquartered in Russia, Mitt drew heat when he declared, in recent months, that "the Soviet Union is America's biggest enemy." Furthermore, while Romney yells that "Obama is not tough enough on China", both CNOOC and Sinopec are Chinese state-owned corporations in which Mitt Romney heavily invested. Someone needs to tell Mitt Romney that by his investments he supports Iran's nuclear weapons program and the activities of these companies in Iran. Note too, that it was the Obama administration who forced Lukoil to cease all transactions with Iran in April 2010, because such transactions violate US sanctions against Iran.
Will the media once again fail the American public on the vetting of one Willard Mitt Romney? Or will they join The Stew in loudly and forcefully calling for Mitt's tax returns? We want returns going back 12 years, in keeping with his father's tradition. Were the Iranian oil investments ever sold? If so, were they sold to a family member? For how long after that 2007 hypocritical speech did he keep them? While you're at it, we demand to know what foreign entities, if any, contribute to Mitt Romney's 2012 campaign. Will foreign entities own a piece of a Romney presidency and by default, the People's White House? The electorate has a right to know. Tax returns, please.
Comments
comments