Ah, the pundit universe, that magical place where no one has any clue, WHATSOEVER, as to what's going on in the real world. This has never been more apparent than when you watch Morning Joe on MSNBC…brewed by Starbucks, no less!
Have I ever mentioned how much I hate that show? I think I have. It's a vapid, vacuous daily three hours showcasing the country's backbone-challenged fence-sitters – I'm sorry, centrists – and it's a grand exercise in media circle-jerking that adds nothing to the national dialogue and simply spends its time blowing smoke up one another's asses for good fun.
They hem and they haw, "debating" over issues, with Joe Scarborough playing the role of pontificating conservative, while Mika Brzezinski, in all of her "progressive concern" plays devil's advocate on occasion, with a bunch of hand-wringing and heavy sighs.
It's like watching a dysfunctional, swinger's version of Leave it to Beaver. And in this version, Harold Ford Jr. is Eddie Haskell: a brainless sycophant put forth by the industry that pays him to run interference for their destructive economic dalliances. Ford, who is a frequent panelist on Morning Joe, claims to be a Democrat, but spends his airtime sounding more like a dyed-in-the-wool Republican. In a recent column, Glenn Greenwald pegged him as a "smirking psychopath," a characterization that is brutal but not too off the mark:
Harold Ford, Jr. is the walking, breathing embodiment of virtually everything rotted and corrupt about the American political class. He entered Congress at the age of 26 only by virtue of nepotistic benefits: while in law school, he ran for the seat long held by his father of the same name (he then promptly failed the test for admission to the Tennessee bar). In Congress, he voted for de-regulation of Wall Street (which helped precipitate the 2008 financial crisis); to authorize the Iraq War (and then harshly criticized Democrats who opposed it and refused to admit its error even as late as 2007); in favor of a Constitutional amendment to ban same-sex marriages (The Advocate branded him "anti-gay"); and was one of the few Democrats to support the credit-card-industry-demanded bankruptcy "reform" bill that made it harder for impoverished consumers to discharge consumer debt.
Ouch. But, the truth hurts sometimes, and if that doesn't give you a sense of who Harold Ford Jr. is and what his views consist of, maybe this video from Brave New Films will.
WATCH (story continues below):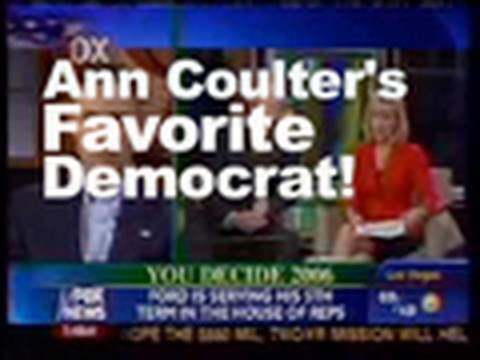 "Are you now or have you ever been a liberal?"
Short answer, one syllable: No.
Ford is a stooge and has always been a stooge for Wall Street and just about every Republican policy point since the very beginning. Some of you may remember this exchange from 2010, when Ford went on The Ed Show on MSNBC and cheer-led the extension of the Bush tax cuts, which have been an unmitigated disaster for this country.
WATCH (story continues below):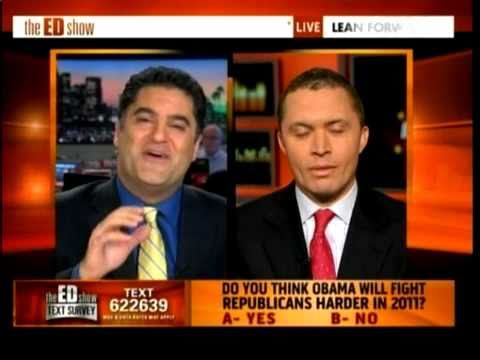 I don't know who Ford is talking about, but I'm pretty sure it ain't a Democrat or a Progressive. And last year, Ford appeared on Meet the Press, to push for lowering taxes on repatriated monies, saying:
"A lot of that money, people worry if it will be spent on dividends or whether it'll be spent on stock buy-back…who cares? If the money comes back to the U.S. and U.S. investments benefit, the economy benefits because the stock market goes up."
Yeah! Who cares?! Who cares if the repatriated money goes to make the ultra-wealthy even wealthier through no taxes whatsoever and an immediate investment dump into their own coffers! It's trickle down, baby!
In May of this year, Cenk Uygur did a brief expose on Ford, after Ford went on TV to defend Cory Booker who, even as a so-called "surrogate" for the Obama campaign, defended the mythical "job creation" record of Mitt Romney's Bain Capital tenure, and Cenk was pretty ruthless in his summation of Ford:
"When you talk about legalized bribery, the perfect guy to talk about is Harold Ford Jr. Harold Ford is a former congressman from Tennessee, he ran for a senate seat and after he lost, he immediately went to New York, hat in hand to Wall Street and said, 'Who can I work for, secretly, of course – been working for you in the House all along, but I'd just like to make it more official.'

"He's had jobs a Merrill Lynch, Bank of America and now at Morgan Stanley, where he really does very little work, but his job is mainly to go on television and tell us how awesome the bankers are, and then they label him Democrat, and they say, 'Well look at this! This African-American Democrat who's obviously Progressive because he's African-American, is in favor of the banks!' Well then, the banks must be great guys."
Of course the kicker for Ford and his ongoing Republican Apologetics Tour would be after the earthquake in Haiti in 2010, when presidents Obama, Clinton and Bush announced their support for the country in the aftermath of the disaster and Ford had this to say:
"It was good to hear President Bush's voice. I haven't heard it in a while, as we both commented, and in a lot of ways, this is the first time, at least that I can think of that he's been called upon to lead a national effort like this. Granted, we hope they're not many efforts that have to be led like this, but this is the first that he will join with President Clinton."
I'll give you a moment to get over the dry heaving…
Harold, maybe Bush has not been called upon to "lead" because most people know that everything the man touches turns to crap with a capital 'C'. I mean, does anybody remember January 2001-January 2009 for god's sake? Are our memories really that short that we don't remember the Republican disaster otherwise known as George W. Bush?
But I digress…
In 2010, Ford flirted with a possible run for senate in New York, while voting records still showed him to be a resident of Tennessee, and The City Paper, a Nashville news outlet, pegged him thusly:
Amazingly, he's not even asking New Yorkers to accept and understand a dramatic transformation storyline. Instead, he's denying any significant alteration of his politics. Ford asserts that he has not suddenly become pro-gun-control, gay-friendly, pro-choice, and pro-immigrant. He maintains that he always has been. Ford and his new New York spokesman bristle at the insinuation that Ford's record is not completely consistent with his new progressive electorate.

Ford is by no means the first politician to try and sneak one by the voters, but he may very well be the first to attempt a transformation of this magnitude in the age of YouTube. There aren't just dry records of his anti-gay marriage votes in the Congressional Record and bland newspaper accounts of his right-wing 2006 campaign in Lexis/Nexis — there's video. A lot of it.
Like this confrontation with Lieutenant Daniel Choi, who confronted Ford in 2010, and called him out on his anti-gay positions as well as his nerve for considering a primary run against Kirsten Gillabrand, who has been a tireless advocate for the LGBT community.
WATCH (story continues below):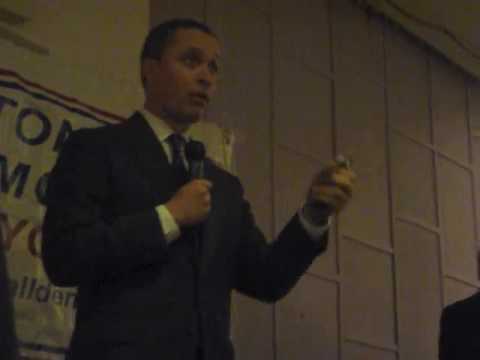 So there you have it, the twisted story of a man who calls himself a Democrat, but in word and action is merely a mouthpiece for some of the most destructive, psychopathic industries in this country: Wall Street, the banking industry, corporate conglomerates, and Mitt Romney via Bain Capital. He's a man who stands against most if not all of the Democratic and Progressive platform, yet still manages to get away with that (D) behind his name.
He's a feckless opportunist who, much like Romney, will flip his story to suit his purposes. So when you think about it, it's no surprise that he would defend the banks, Wall Street, soulless corporations, and the likes of Romney. Of course he would, because they're very much the same person, cut from the same craven cloth.
Comments
comments