There is no shortage of outrageous claims and statements from the loony televangelist known as Pat Robertson. We here at the Stew have a whole library of articles on the inappropriate, insensitive, and downright crazy stream of bile that constantly spews from this man's mouth as he sits on his throne over at The 700 Club.
For instance, when I last reported on him, he was busy blaming atheists for causing the Sikh Temple shooting, when, in fact, it was done by a White Supremacist, and they are largely Christian. Now, he is at it again, but this time he has crossed the line into advocating violence. According to Right Wing Watch, Pat Robertson advised a man in a troubled marriage to move to Saudi Arabia where he could beat his wife.
WATCH (story continues below the video):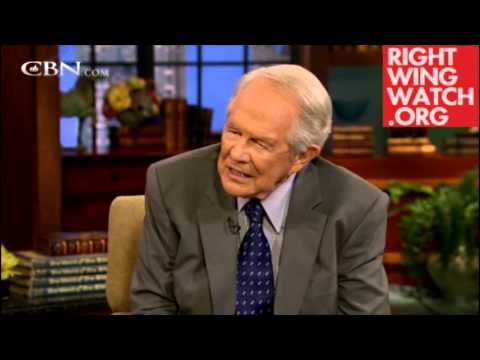 "Well, you could become a Muslim and you could beat her," Robertson responded to a viewer who called in about his wife who "insults" him, and once attempted violence against him. "This man's got to stand up to her and he can't let her get away with this stuff," Robertson continued, "I don't think we condone wife-beating these days but something has got to be done."
He later called the man's wife a "rebellious child" and contemplated her mental health. He then went on to say that since the viewer "can't divorce her according to the Scripture, so I say: move to Saudi Arabia."
Now as a woman, a feminist, and someone who abhors violence of any kind, I am appalled that anyone, even Pat Robertson, would advise that a man actually move to one of the most oppressive, misogynist theocracies in the world so that he could legally commit the heinous act of beating his wife. Wait, no, I can totally believe it, because if it were up to Pat Robertson, America would be a Christian version of Saudi Arabia, with the Bible (likely Old Testament laws) as the governing document and women beaten by their husbands for the slightest mistake and stoned in the town square for even the suspicion that they were less than 100% pure virgins on their wedding nights, or, heaven forbid dared to have affairs or even look in the direction of another human being in a less than innocent manner.
Mr. Robertson, SIT DOWN AND SHUT UP. Women are not "rebellious children" for standing up to their husbands. We are people, adults, just like you, like it or not. We are your equals, and if we're lucky, before you finally go far enough over the cliff you're hanging from and the men in white coats come get you, your own wife will get fed up with you and give you a taste of your own sour medicine in clear view for the world to see. I would say she should kick your ass, but, even you, you loony old coot, do not deserve that.
---
Fight the War on Women – Slap Some Stew On Your Bumper!
Comments
comments