Oh, Christian theocrats, you're so transparent, it's not even funny…
But what also isn't funny is that your tax-exempt status hasn't been yanked by the Internal Revenue Service…yet.
Religious persecution? Check. Infringement on religious rights? Check. Making sure that Christianity is the only perceived victim? Check. Disenfranchising those of other faiths and thereby reinstating your dominant position? Check.
It would be somewhat amusing to listen to the speakers at Tony Perkins' (Family Research Council) iPledge Sunday event, if not for the fact that he, and his appointed acolytes and henchmen, are trying to re-write American history.
I keep telling myself that this surge in Christendom Craziness is merely the death throes of a movement that has realized its impending end, and is simply trying to over-compensate for their ever-dwindling numbers; but then I remember that an idea is very hard to kill, and their "idea" of America enraptures many souls – not in fact, but in spiritual belief. And spiritual belief? Well, never underestimate it. It is the stomping ground, the money-changer haven of soul-traders the world around, which feeds on and profits from the spiritual despair of others.
The iPledge event featured several speakers, wielding their spiritual weaponry like Cudgels of Honor.
You can laugh and say he's a has-been joke, but one look into this dude's eyes and you can see he passed on to the dark side many moons ago. It's kind of disturbing, because I have seen that look more times than I would care to in my lifetime, and, discount it if you will, but his kind of fervor is infectious. They are the eyes of a fanatic, a true-believer:
"One of our political parties is wondering if the name of God should be in the platform. According to our forefathers, God IS the platform."
History 101 – an FYI from me to you, Kirk (from the Treaty of Tripoli, written by John Adams):
"As the Government of the United States of America is not, in any sense, founded on the Christian religion; as it has in itself no character of enmity against the laws, religion, or tranquility [sic], of Mussulmen [Muslims]; and, as the said States never have entered into any war, or act of hostility against any Mahometan nation, it is declared by the parties, that no pretext arising from religious opinions, shall ever produce an interruption of the harmony existing between the two countries."
WATCH (story continues below):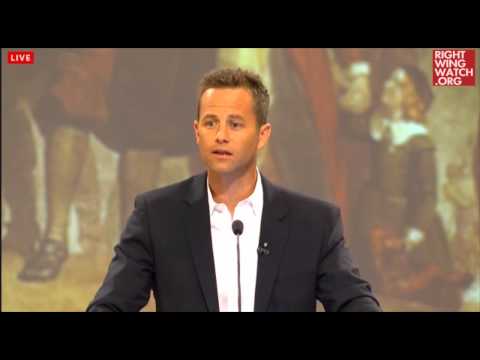 Rick Santorum
Mr. Anal Frothy, in the flesh.
God, that just sounds nasty. And it should.
Mr. Frothy, a/k/a Rick Santorum, has made it his business to get all up in your business…to the point where he comes across as being some sort of sexual deviant. I mean, my god! The man thinks about sex more than the majority of the population of the country: gay sex, straight sex, man sex, girl sex, you name it. The man is preoccupied with sex…and happiness, apparently:
"[O]ur Founders understood better. And when they said pursuit of happiness – go back and read the dictionary definition of happiness in town (?) of the time of our Founders. What will you find? You will find that our Founders understood, as the people at that time, that true happiness comes from doing what you ought to do, what God has called you to do, and that's what they meant; to use the freedom God has given you, to do what you ought to do, and to pursue God's will."
Freedom! To enslave yourselves to a theocratic agenda as dictated by the likes of Dick Rick Santorum through a complete misreading of history and his interpretation of God's will, which I'm sure God communicated to him via telepathic fax and/or ethereal email…
WATCH (story continues below):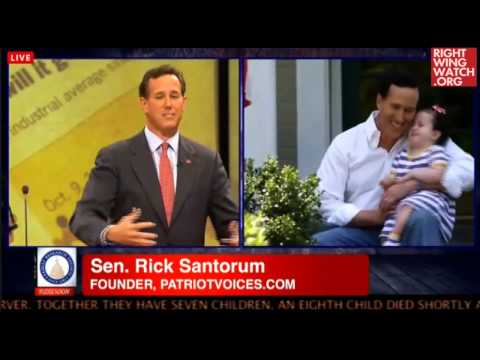 Bishop Jackson has made a name for himself as a hateful opponent to marriage equality and homosexuality, and as we've come to expect from this zealot, his latest words are completely offensive:
"My black neighbor, my black friend; my Hispanic neighbor, my Hispanic friend, I want you to understand that you have got to vote your Biblical values; you've got to decide that you're gonna come off of a [sic] ideological plantation into the freedom of the liberty of the sons of god."
WATCH (story continues below):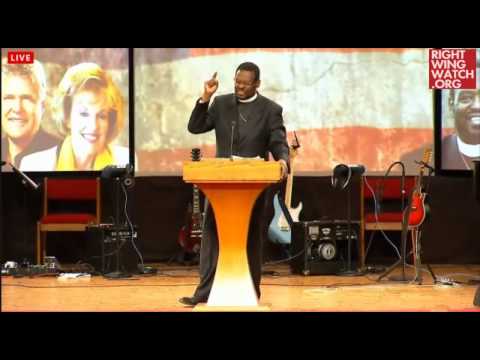 Seriously. How long do we have to wait until the tax exempt status of the religious right is rescinded for all time?
Inquiring minds want to know…
Comments
comments