Welcome to The Stew's weekly column of winners and losers, heroes and zeroes, foolish and fabulous, in the world of politics, news and pop culture.
This week saw the overturning of Scott Walker's attempt to bust the unions, a portion of the NDAA was stuck down, and the comedy cavalcade known as the annual Values Voters Summit took to the stage.
Heroes
Dane County Judge Juan Colas: I'm fairly certain that Judge Colas is being toasted at tables and gatherings all over Wisconsin after his monumental ruling overturned Scott Walker's signature piece of Koch-fueled union busting. The decision came Friday afternoon and made a boring news day rather exciting. Unfortunately, the victory may be short lived, as Walker's camp plans to appeal and enforce the law during the appeal process.
Judge Katherine Forrest: Another triumph of the courts came from Federal Judge Katherine Forrest, who took the courageous step of actually adhering to the constitution to strike down the provision within the National Defense Authorization Act that allows for indefinite detention.
Between the two rulings, there is a certain faith restored in the system and in the notion that the checks and balances are actually working.
Zeroes
The Values Voters Summit took place this week and all the loons came out to play…
Rick Santorum: Remember when Sarah Palin said she thought John Kerry "diminished himself by even mentioning my name," after Kerry took a swipe at her at the DNC convention? Well, that kind of stupid honesty and oblivious truth isn't exclusive to the Tundra Twit. Take Rick Santorum, for instance. Appearing at the Value Voters Summit, Rick Santorum made this observation, his own words apparently lost on himself:
"We will never have the media on our side, ever, in this country. We will never have the elite, smart people on our side, because they believe they should have the power to tell you what to do."
It's sort of one of those comments where you just throw up your hands, shrug your shoulders and say, You're right, dumbass, smart people are never going to rally to your cause – especially when you're trying to force your "values" down the throats and up the va-jay-jays of half the citizenry – and well done on identifying the stupid in the room: you.
WATCH (story continues below):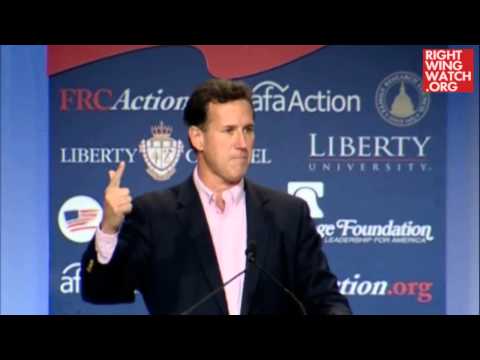 Star Parker: Another Values Voters home run, Parker used a different set of words, but basically pulled a Limbaugh and called Sandra Fluke a slut:
"The HHS mandate has made Sandra Fluke a national icon for sexual promiscuity. But I've got news for Ms. Fluke, good news, news that I learned after a Christian conversion…"
Blah, blah, flippin' blah…I'll leave you to watch the rest of her comment, if you can stomach it…
It's amazing how blind to their own language and "reasoning" – if you can call it that – these people are.
Blows my mind…
WATCH (story continues below):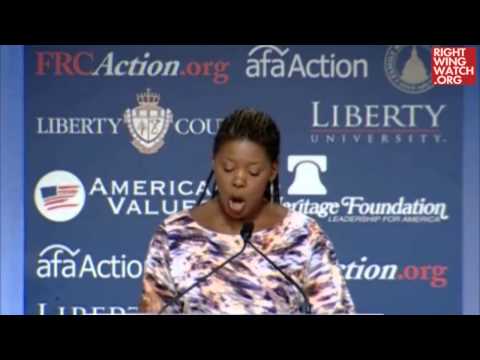 Mitt Romney: Yes, he's back, for the simple reason that he's horrible and awful and craven and a dirty rotten liar, and this week did nothing to allay that perception, as he basically imploded whilst smirking, like some sort of deranged psychopath. Time after time this week, Romney made himself look like a right old jackass, from his disgusting remarks after the attack in Libya that killed an ambassador and three of his aides, to making sure that his constituents know that that the word God will not be removed from the nation's coins under his presidency, because that a major concern, apparently, Romney, in every way imaginable, made himself look completely un-presidential, and if the warning claxons weren't sounding before, they are positively screaming now.
He said he was running on the economy, but since we're not allowed to ask for any particulars on his specific plans, it seems we'll have to be content with the clash of the culture wars. Hint: the culture wars are really all the Republicans have to run on, and I'm guessing there are no particulars to Romney's supposed economic plan, because the party is now completely devoid of ideas. But that's what happens when you slam the door in the face of intelligence and embrace the cave men.
That's it for this week! Join us next week for more Heroes and Zeroes!
Comments
comments