OK, let's start off with the promo…
The Rumble 2012 – Media  Edition!
WATCH (story continues below):
Pretty exciting, eh?
All I can say is, The actual event better be more exciting than the damn trailer!
Yes, Bill O'Reilly and Jon Stewart are going to go head-to-head in a "debate" scheduled for October 6th.
I know I shouldn't worry, but I feel a train wreck coming on, one that could go either way.
Don't get me wrong, I love (love, love) Jon Stewart, he's one of my personal heroes, but what I've learned over the years is that when he's in a contrived setting, it doesn't always work in his favor. The Rally to Restore Sanity was praised – and equally panned – by media critics, including The Stew. For my part, once you got past the buffoonery of the rally, Stewart had a pretty powerful message to deliver.
On the other hand, I've seen him get punked by right-wingers, due in large part to his unending commitment to civility, which is not necessarily a bad thing, but when he interviews obvious frauds like David Barton, I'd would prefer him to show a little more teeth.
That being said, Stewart has schooled Bill O'Reilly on more than one occasion, the last of which was the Fox News faux-outrage over President Obama's invitation to the rapper Common – a non-story inflated to epic proportions by Fox News.
WATCH (story continues below):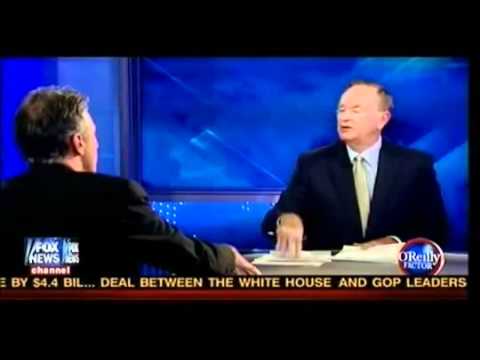 So, now we have an actual throw down, a "debate," between the two media figures, which brings me to another…point of hesitancy, if you will.
On the one hand, you have a "commentator" from Fox News, the right-wing propaganda machine for the Republican Party, which is an absolute joke in itself as a news organization; and on the other hand, you have the literal joke that is Jon Stewart, head of fake news at The Daily Show, which delivers more truth through satire to American TV viewers than all of the news networks combined.
What the hell does that say about us as a country?
We're kind of pathetic, truth be told. I know we don't like to hear that…but, here we are…
I find myself conflicted, in the sense that this may be just another media smokescreen, another method to lull the masses.
But by the same token, I'm kinda chompin' at the bit to see how it all plays out…and I'm hoping that Jon Stewart will own Bill O'Reilly's bullying ass once more.
WATCH the invitation from Bill O'Reilly for Rumble 2012:
WATCH the invitation from Jon Stewart for Rumble 2012:
Comments
comments