Healthy school lunches, promoted by First Lady of the United States Michelle Obama, are now the target of lazy students, teachers, parents and congressmen. Conservatives derided the initial changes as nanny government interfering with the nutrition of school students. Michelle Obama originally advocated the switch to less sugar and fat in the subsidized school lunch program as part of the Healthy, Hunger-Free Kids Act of 2010. It is a small step to combat childhood obesity and Type II diabetes that robs children of their health and costs the nation's health care system millions of dollars.
Lazy Students
Under the guise that the new lunch menu of the National School Lunch Program left the students starved and lethargic for class and sports, students at a high school in Kansas, with the help of their English teacher, created a video called We Are Hungry depicting the evils of the new nutritional guidelines. In reality, these students are just lazy and would rather eat chips at lunch than fruit. Since the caloric change to the lunch menu is relatively small, I can only assume the students just aren't eating the lunch and pocketing the money their parents give them.
WATCH (story continues below):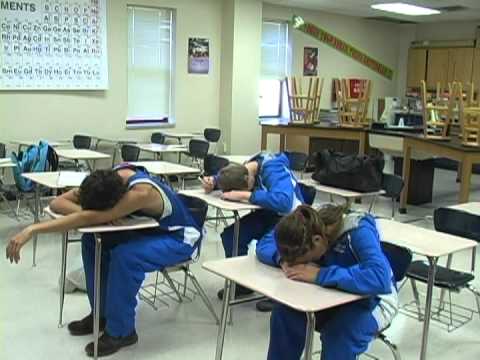 The lame video was posted by You Tube account holder blk5348 which has an odd assortment of poorly produced Christian videos. Allegedly, the students don't just want the nutritional and caloric guidelines changed; they want them repealed according to the information posted on the You Tube description. There is even a Facebook account called Nutritional Nannies dedicated to stopping the starvation of students under the new lunch menu.
The Facebook page looks to have been created by Congressman Steve King (R-IA) and Congressman Huelskamp (R-KS) in support of their bill "No Hungry Kids Act", H.R. 6418 which would (hold your seat),  "… repeals the USDA rule that created the new standards, prohibits the USDA's upper caloric limits, and will protect rights of parents to send their children to school with the foods of their choice."
Old white guy attempt at a cool video.
This is actually good news. The only explanation for a student video lacking anything remotely considered creative, like in We Are Hungry, would be if a couple of old Republicans from the mid-west produced it. If you go to either of the respective congressional websites you'll see the video prominently displayed on the homepage. They are pretty proud of their pathetic attempt to build a groundswell of support against nutrition.
Real athletes can be vegetarian.
I have proof that a balanced lunch, low in sugar, fat, salt and carbohydrates will not cause a student to starve or under perform. My son, Walker, has been making his own lunch since elementary school because, in his words, the lunches I used to pack for him "sucked." A typical lunch he makes includes yogurt, hard-boiled egg, fruit and a cheese stick.
WATCH (story continues below):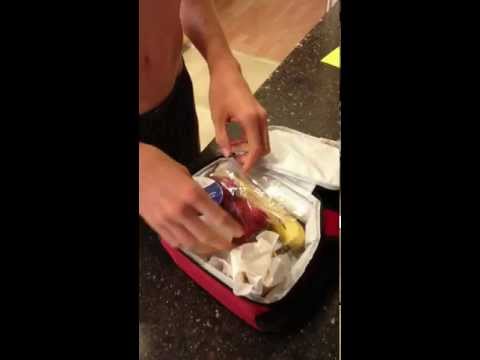 His lunch sustains him enough to achieve straight "A's" in school and average 8 miles a day running for the high school cross country team. As a sophomore he made varsity with a respectable 5K time of 17:45 at the Stanford Invitational this past September. Oh, did I forget to mention he has been a vegetarian for 5 years? Ever since he saw how they treat animals in a slaughter house, probably in Kansas, he has eaten no meat. If those lazy Kansas high school students have enough time and energy to make a video, they certainly have enough time to prepare their own school lunch.
As a way to increase the consumption of green leafy vegetables at school, and make some money, my son also sold futures of organic spinach last year he grew in our back yard. It was a lesson in agriculture and business. Even though I can't get him to clean his room or put the silverware in the dishwasher, he is nonetheless motivated to take charge of his own food and nutritional requirements. Kansas high school students should stop being lead around by a bunch of dead-end Republican congressman and go start a business.
Lazy Teachers
High school teachers have a rough enough time dealing with students on a regular basis, but when they come to class grumpy and tired because they skipped lunch, it makes the class that much more difficult to teach. I can empathize with teachers who want alert and happy students. However, supporting student's grievance that the school lunch food is not tasty enough to eat, like English teacher Linda O'Connor who wrote the video, is just plain lazy and selfish. If the teachers want attentive students they should demand the teenagers eat lunch to pump up the blood sugar levels.
The link between hunger, learning and attitude is nothing new. The USDA web site quotes from the book Their Daily Bread:
"Seventeen out of my 36 children are either not getting any lunch or an adequate one. I see definite personality changes when a child doesn't get lunch."  49

"Since getting free lunch she has shown a marked improvement in attitude. Last year she was a major discipline problem."  50
Their Daily Bread was written by the Committee on School Lunch Participation, Florence Robin chair, in 1968. If the Kansas state teachers had a backbone they would tell their students not to come to class until they have eaten lunch.
If the teachers would actually look into the workings of the National School Lunch Program they would read in a USDA bulletin:
"While school lunches must meet Federal meal requirements, decisions about what specific foods to serve and how they are prepared are made by local school food authorities."
So if the kids don't like what the cafeteria lady is serving, don't blame Michelle Obama or the federal government, talk to the cook.
Lazy Parents
Good students and good grades start at home. Parents who don't educate their kids on the importance of a good breakfast and lunch are lazy. If you want your child to excel and the kid doesn't want to eat lunch at school either make them a sack lunch, have the kid make their own lunch or tell the whiny student to grow up and eat at school because there are starving kids in Africa. It is a favorite American past time to blame our entire child's lack of achievement in school on the government. Obviously, it is the whole wheat pizza crust that causes our kids to get D's in math strike out in the ball game.
Lazy Congressman
How could any teacher, parent or congressman not support a program that enhances the nutritional value of meals for students? Perhaps the folks in Kansas just don't like someone who they perceive as at one time being "The Help", Michelle Obama, telling their children what to eat.
Congressmen King and Huelskamp are certainly lazy for not trying to get the program to work. They are quitters. Instead of promoting health they would rather repeal the guidelines and let the kids go back to eating more sugar, fat, salt and carbohydrates subsidized by the American taxpayer. (Real Republican values at work). If the congressman would spend half as much time promoting the healthy school lunch program as they do creating lame videos and sucky Facebook pages denouncing government, they would see higher test scores and better athletes at their local schools.
Comments
comments