It seems that Romney's record with Bain Capital is the gift that keeps on giving for our side of the fence this election season. The latest incident keeping that issue front and center comes from the good folks hurt the most by the Outsourcer-in-Chief: the workers who were laid off due the company's activities, and those still working at Bain owned companies at barely livable wages.
That's right, a coalition of people who were employees of companies purchased by Bain Capital will spend the next month attempting to win the swing states of Ohio, Florida, Pennsylvania, and Virginia for Barack Obama by protesting the economics of Mitt Romney, who is, of course, the founder and longtime chairman of Bain Capital.
The "Bain Workers Bus Tour," which was organized by left-leaning political groups, started in Ohio, and spent eight days on the road as Romney campaigned to win this crucial battleground state. The group includes former workers from Sensata, a tech company; the Burlington Coat Factory chain of clothing stores; Michael's craft stores; Outback Steakhouse restaurants, and Dunkin Donuts, according to the website set up by the tour.
The group slams Romney's economic policies, communicating what it would mean for the nation's working people if he were to be elected president:
"Bain workers know firsthand what a Romney-Bain Economy looks like….Outsourcing the good jobs to China, [and] leaving mostly low-wage jobs with limited benefits here in our communities."
While a serious issue, of course, the group is rallying in a very creative and eye-catching way. Last Thursday in Detroit, they rallied outside a Burlington Coat Factory store while a Romney impersonator handed out symbolic pink slips to everyone.
Calvin Johnson of Detroit, who works as a music instructor at the Bain-owned Guitar Center, pointed out how difficult it is for him to survive on the $8 per hour he earns:
 "I'm worrying [about] how I'm going to pay this bill, that bill and nobody should have to worry about that. I joined this movement to raise awareness that we really need to raise the minimum wage. We can't survive on $7.25!"
Involved in the movement are also representatives from labor unions and workers' rights groups. They say their mission is to "warn voters about the dangers of a Romney economy."
Romney claims the strong point that makes him a great candidate for the presidency is his leadership of Bain Capital. Last month, he wrote in an op-ed that  "The lessons I learned over my 15 years at Bain Capital … would help me as president to fix our economy, create jobs and get things done in Washington."
However, a video from 1985 emerged recently where Romney explains the real purpose of Bain Capital. The Bain partnership, in Mitt's own words, "was formed to invest in startup companies and ongoing companies, then to take an active hand in managing them and hopefully, five to eight years later, to harvest them at a significant profit."
During Romney's run at Bain, the company invested in many different companies. Some were successful, but others, not so much, resulting in the shuttering of U.S. call centers and manufacturing plants, as well as shipping jobs to low-wage countries overseas in order to cut costs. A few of the worst cases of Romney's hit to the U.S. economy via his activities at Bain Capital were companies like American Pad and Paper (AmPad), which were dismantled and sold off after being drowned in debt.
The Bain workers bus tour will remain in Ohio until October 2nd. They will then travel to Pennsylvania and New York before finally making it to Florida in late October.
We're proud of these people who were directly hurt by Romney's personal greed, and thank them for exposing him for what he is when it comes to the economy. They know first-hand what Mitt will do to this nation's working families, because he's been doing it to them for years through Bain Capital.
WATCH the group's recent rally and voter registration drive in Philadelphia: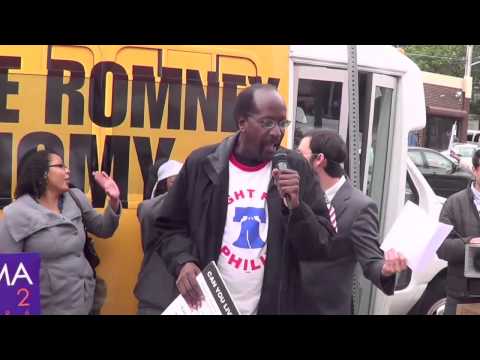 ————————–
Keep our Jobs at Home – Outsource Republicans!
Comments
comments