Janeane from Des Moines represents the cognitive dissonance of conservative Tea Party voters who refuse to accept reality and instead put their faith in political rhetoric. The film portrays the quest of a 47 year old conservative Christian voter looking for answers during the 2012 GOP Iowa caucuses. Janeane from Des Moines' intent is to reveal the disconnection of the GOP Presidential candidates and their voting base with the issues facing American families. While the movie fulfills the documentary goal, it fails on the drama side because of cinematic problems.
The film is directed by Grace Lee who teamed up with Jane Wilson to write the screenplay. Jane Wilson also plays the central character Janeane Wilson in the mockumentary. Set in suburban Des Moines, the fictional Janeane Wilson has decided to get involved with the Iowa Republican Caucuses because she is convinced Barack Obama is leading the nation down the toilet.
Jesus loves me this I know, for the Bible tells me so
We follow Janeane on her journey to meet all the Republican candidates as her life falls apart. The film attempts to have Janeane's evangelical Christian blue collar character represent a wide swath of America as she shoulders litany of life events. Poor Janeane endures the emotional pain of  her husband losing his job, finding out he is gay, eventually leaving her for another man, losing her health insurance, and finally, finding a lump in her breast.
Within a two month period the screen writers put enough plagues in her life to make the biblical Job think he had it easy. Janeane is always the optimist and routinely turns to the bible for strength and comfort in the face of overwhelming odds. The film creates a caricature in Janeane of those folks who stubbornly refuse to assimilate the facts of life into their world view.
Janeane stays in character but not the film
The challenge for the viewer is juggling the three different movie styles of documentary, informational news clips, and the fictional plot development scenes. Often times I was left wondering if the scene I just watched was part of the documentary or a staged scene to support the premise of the film. As the film flips between different genres it left me unable to completely empathize with Janeane.
Early in the film Janeane points to a Planned Parenthood facility and calls it "a little murder factory." Later in the film, with no place else to turn because she has lost her health insurance, she is sitting inside the Planned Parenthood office getting a diagnosis of breast cancer. The scene is punctuated by the Planned Parenthood doctor offering to help get her medical care and Janeane replies, "As long as it's not Obamacare." While the irony was not lost on me, there was a hole in my gut where the empathy and tears for Janeane should have been. The construction of the film prevented me from completely bonding with Janeane's character and plight.
At first, I thought the scenes of Janeane attending her women's bible study group were part of the documentary of real life in Des Moines. The bible study scenes, which I finally realized were part of the mock in mockumentary, are some of the best in terms of fictional development of the Janeane's character. But I am still left wondering if the scenes of the evangelical pastors talking about their unyielding biblical positions on abortion and the sanctity of marriage were real or staged.
Reality TV of GOP candidates
The movie also adds news clips of notable highlights of the Republican primaries such as Romney famously calling corporations people, Rick Santorum's response to a gay soldier. Rick Perry's gaffe on only naming 2 of 3 departments he would eliminate and Newt Gingrich crying over his mother. All of the news clips add context to the film as Janeane's situation deteriorates and she desperately tries to get answers from the candidates.
There is a maxim in Hollywood that you never star with animals or children because you are sure to be upstaged. We can now add politicians to the list of co-stars to avoid. The candid clips of Janeane with a variety of GOP Presidential hopefuls show that they should all be nominated for best supporting cast members in their own fictional drama. Better than any well trained dog, the nominees spew unintelligible political pabulum and sound bites to Janeane's serious questions regarding health care and insurance in America.
"I'm at the end of my rope."
Janeane is able to meet with several candidates and ask how the candidate will help her in her current situation of no affordable health insurance. This is the part of the film where I am able to suspend disbelief and really identify with Janeane. The responses, largely stayed on their campaign messages, are full of rhetoric and feigned compassion. Here are some of the exchanges from the movie after Janeane explains her husband lost his job, they have no health insurance and she has medical issues:
Michelle Bachman: "I want to repeal Obamacare…it goes back to the fact that we need a pro-growth economy, to have health care you have to have a job to be able to pay for it."


Newt Gingrich: "We have to go to a totally new model. You should be able to buy into a group insurance plan with other people in your community" Then he segues into a speech about reducing litigation and Janeane is heard saying, "but it's [health insurance] too expensive."


Rick Santorum: "I'm a big private sector health care guy. I was one of the authors of Health Savings Accounts. That's the way we have to get consumers back in health care."

Janeane: "If you have no health insurance, how do you get care?"


Santorum: "That's an access issue, but the problem right now is not really access but is cost, cost is causing the access problem not the other way around…Obamacare fixes access but does nothing to fix the costs…unless you want rationing of care." This leaves Janeane bewildered and wondering, "I don't even know how I would get a health savings account."
Unable to speak to Rick Perry, Janeane is successful in corralling Rick's wife, Anita, in front of a campaign bus.
Anita Perry: "That's something that is not right; we ought to make health care affordable for everybody."


Janeane: "What is somebody to do that has no health care?"


Anita Perry: "Until we get there, we can't solve the problem. I know that you deserve health care."
Janeane is able to worm her way to briefly speak to Mitt Romney and through near hysteria and tears she tells Mitt that she lost her health insurance and she is at the end of her rope.
Mitt Romney: "That's why I'm running I want to help people like you."
WATCH (story continues below the video):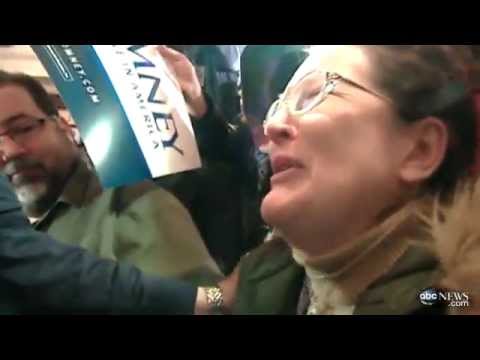 All the candidates repeated calls for the repeal of Obamacare, news clips, bible study sessions, and Tea Party meetings reinforce the cognitive dissonance of Janeane. The candidates give her no concrete answers about how they would help her or the millions of other Americans in her same situation. Through it all, against reality and evidence, Janeane and other Tea Party Patriots continue to believe there is hope in the bankrupt political rhetoric the GOP is churning out.
As good as the candid Presidential nominee scenes were, the film was muddled with quasi-documentary scenes that were meant to further the movie's plot development. The film makers tried to pack too much into the scenes and an air authenticity was lost, even when the message was delivered.
Identity crisis for the film and Janeane
There is the scene where Janeane confronts a co-worker over not being invited to Thanksgiving dinner. In a not so subtle fashion the co-worker tells Janeane how her Tea Party views were alienating her from friends and family. Another scene has Janeane follow her husband, Fred, into gay bar where, in a state of extreme agitation, she confronts him and the reality that their marriage is over. In both cases the scenes served their purpose to touch on Janeane's tightly held conservative positions, but highlighted the films confusion over its own identity as drama or documentary. Consequently, the viewers are confused over how they should be relating to the characters and the subject matter.
Back off Kevin, it's a mockumentary
Because this is a mockumentary, I didn't expect to see the protagonist undergo a transformation of belief or have an epiphany of philosophy. The point of the film is that people completely indoctrinated with the conservative dogma are incapable of transforming an opinion. Janeane from Des Moines successfully represents the failed political philosophies of the Tea Party GOP Presidential candidates as they relate to the real issues facing Americans today.
As this movie feeds into the current Presidential election folks like Janeane still haven't heard Mitt Romney enunciate his plan for solving the health care and insurance crisis in America. Janeane from Des Moines is successful in conveying the message that Tea Party indoctrinated folks who lose their health insurance must turn to the very government programs their candidates have vilified and sought to eliminate. On that level of reality, the mockumentary plays well.
WATCH the trailer: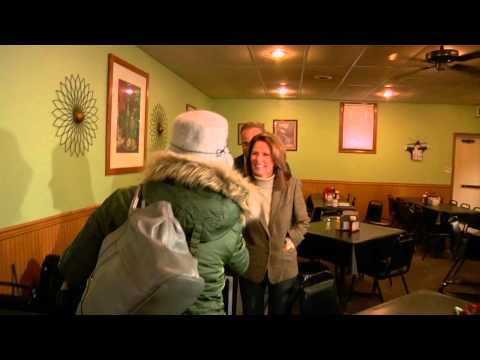 Comments
comments