Welcome to The Stew's weekly column of winners and losers, heroes and zeroes, foolish and fabulous, in the world of politics, news and pop culture.
This week, JK Rowling explains why she "stays and pays," Green Party presidential candidate Jill Stein is arrested for attempting to be part of the presidential debates, and Lila Rose floats out another fail, while another pastor calls for violence against women.
Heroes
JK Rowling stopped by The Daily Show on Monday to promote her new book, The Casual Vacancy. During the course of the interview, Rowling's life experiences were discussed, and she talked about her time before the advent of Harry Potter, when she was on government assistance. We've seen such vilification of the poor and people on welfare, that it was refreshing to hear someone like Rowling, who wouldn't be where she is today without that assistance, speak about the merits of public benefits:
STEWART: Aren't you a perfect example of the good investment from the government? Has the government ever gotten more back from an investment than from you?

ROWLING: I would think, yes. They gave me, absolutely, they gave me – for which I was grateful, and still am – I received a subsistence, really, from the government, for a relatively short period of my life, and I pay a lot of tax, and I feel one of the reasons I "stay and pay," why I'm not based in Monaco is I feel I owe, I truly do feel that. I think my country helped me. There are places in the world where I would have starved."
Now, that's what I call a patriot!
WATCH (story continues below):
Jill Stein: While most of the country is being pummeled with political ads from Republicans and Democrats, one thing that's been lost in the haze is the fact that there are third party candidates out there, not the least of which is Jill Stein, the Green Party candidate. But casual voters may not even be aware of her existence – along with other third party candidates like Gary Johnson – because they're not allowed to participate in the debates, which, when you consider the fact that we're supposedly living in a democratic country, is something of a travesty.
To protest the debate and the stranglehold of the two parties and Commission on Presidential Debates on the process, Stein and her running mate, Cheri Honkala, were arrested when they tried to enter the grounds of Hofstra University where the presidential debate was being held. They were detained for the duration of the debate and released when it concluded. Whatever your thoughts about third parties, the fact that a Federally recognized presidential candidate can be arrested for merely attempting to be part of the debate, to have their voices heard, should disturb you, especially since the Green Party ticket will appear on 85% of the nation's ballots, which is no small feat.
"If democracy truly prevailed, there would be no such commission, that the debates would still be run by the League of Women Voters, that the debates would be open with the criteria that the League of Women Voters had always used, which was that if you have done the work to get on the ballot, if you are on the ballot and could actually win the Electoral College by being on the ballot in enough states, that you deserve to be in the election and you deserve to be heard."
I wish I could say that she's wrong, but unfortunately, she's right on the money.
WATCH (story continues below):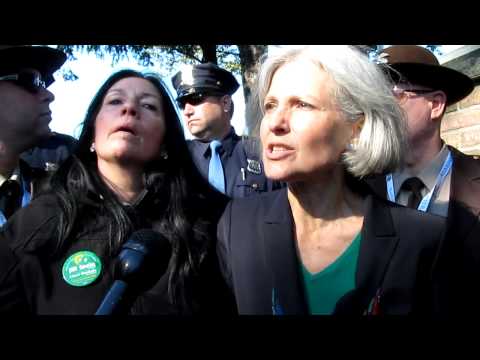 Panda Baby: Just because we need a break from politics – and a dose of cute before we hit the Zeroes section – we have Panda Baby, the San Diego Zoo's as yet unnamed panda bear cub. The three-month-old li'l fella is just learning to walk and his adorableness is chronic!
WATCH (story continues below):
Zeroes
Another sting operation by Lila Rose and Live Action faceplants, and another pastor calls for rebellious women to be "corrected" by their husbands.
Lila Rose/Live Action:
Expect to see another round of misleading and edited-beyond-recognition videos to hit the Internet soon, because Lila Rose's Live Action is in "sting" mode again, with "undercover" footage taken at several women's organizations including Planned Parenthood Action Fund, NARAL Pro-Choice America, EMILY's List and Priorities USA. In each case, organization workers were approached by a woman calling herself Wendy Reed, masquerading as the owner of an abortion clinic. As Laura Bassett reported for the Huffington Post:
The woman asked each organization a similar pattern of questions having to do with President Barack Obama's plans for abortion policy in his second term. She asked whether the groups expected him to repeal the long-standing Hyde Amendment, which prevents the use of federal funds to pay for abortions, and whether they or the president supports late-term abortions, or so-called partial birth abortions. She also inquired about the groups' political strategies and pressed for information about how closely the groups worked with the Obama campaign.
Unfortunately for Lila and her merry band of anti-choicers, these organizations are getting wise to their tactics, and organization staffers were immediately suspicious. Nevertheless, that certainly won't stop Rose and Live Action from lying and twisting the truth seven ways from Sunday. But if their past exploits are any indication, it won't exactly be rocket science to debunk them completely.
Steve Youngblood:
The penchant for violence displayed by the right-wing has been truly astounding over the last year. We've heard calls for the pistol whipping of nuns, raping lesbian girls to turn them straight, unapologetic child abuse, and so much more. The hatred and violence hiding behind the guise of 'organized' religion in American culture is getting harder and harder to hide, and the latest "winner" in this Zero Sub-Category is one Pastor Steve Youngblood, who took issue with a parishioner, a woman, who dared to inform the pastor that displaying political material following a Sunday service, could be illegal. Here was his "measured" response after saying he'd "like to slap her":
"What makes me madder is that this person's husband won't correct them. I don't like rebellious women. I don't like rebellious men, either. They're even worse."
Make no mistake "correcting her" means slapping her around, just like Youngblood would like to do himself. For the life of me, I do not understand the appeal of people like this and how their followers can simply tag along when things of this nature are spoken. All it does is enable people like Youngblood and empower them further. And the shame of their words falls on all who support them, plain and simple.
That's it for this week! Join us next week for more Heroes and Zeroes!
Comments
comments