Mitt Romney, in an attempt to sound erudite and knowledgeable about foreign policy, continuously defaulted to agreeing with most of President Obama's international policies on Monday night. Throughout the debate, moderator Bob Schieffer had to keep corralling Romney back to the arena of foreign policy as Mitt kept wandering off into domestic economic topics. It was clear that Mitt Romney did not bring a "binder full of foreign policy material" with him on this last of 3 Presidential debates.
Right off the bat, similar to his trip to the United Kingdom, Romney is successful in maligning Egyptian President Mohamed Morsi. When speaking to the question of tensions in the Middle East:
"We have in — in Egypt, a Muslim Brotherhood president. And so what we're seeing is a pretty dramatic reversal in the kind of hopes we had for that region."
Mitt, Morsi is a democratically elected President. Gosh, what are folks going to say about you if you were elected, "We have in — in the U.S., a Tea Party Mormon President."? You accuse President Obama of "going on a apology tour" when he was first elected. You need to go on apology tour before we even have had an election.
But Romney got back on track by agreeing and supporting President on a number of topics:
"And — and we're going to have to recognize that we have to do as the president has done. I congratulate him on — on taking out Osama bin Laden and going after the leadership in al-Qaeda. But we can't kill our way out of this mess."
Unfortunately, the contradictions and circular logic would resurface over and over through the debate:
"Well, my strategy is pretty straightforward, which is to go after the bad guys, to make sure we do our very best to interrupt them, to — to kill them, to take them out of the picture."
So what is it Mitt, do we kill them or do we not kill them? If you believe we are at war with terrorism, I guess we have to snuff them out. I was getting the sense that Romney hated to acknowledge that President Obama was not a pacifist liberal and was actually doing a better job than President Bush at getting the bad guys.
Mitt's prescription for making the Middle East one big love fest actually comes from that evil "one world order" organization called the United Nations. (Mitt, the Tea Party hates the U.N. unless you didn't know):
"A group of Arab scholars came together, organized by the U.N., to look at how we can help the — the world reject these — these terrorists. And the answer they came up with was this:

One, more economic development.

Number two, better education.

Number three, gender equality."
Not only did Romney support an idea developed by the U.N., he wants gender equality for all the world. If gender equality is good enough for Arab countries, it certainly is good enough for the U.S. Does this mean Romney is now going to support the Lilly Ledbetter Act?
Romney demonstrated a new talent during the debate that I didn't know he had which is called splitting hairs. He attempted to persuade us that his earlier comment that Russia wasn't our greatest threat, but merely a foe.
WATCH (story continues below the video):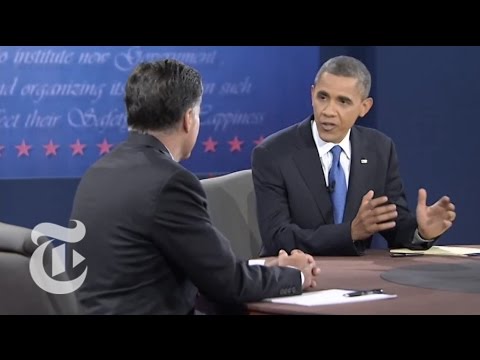 "First of all, Russia I indicated is a geopolitical foe."

"and Iran is the greatest national security threat we face."
A foe can be considered a hostile army, which Romney had indicated was the problem with Russia. But in light of his new found concern over Iran and their spinning centrifuges, national security threat trumps a foe.
With the semantics and threat safely dispatched, Romney had to get back to endorsing President Obama and is handling of the exit from Iraq:
"Number two, with regards to Iraq, you and I agreed I believe that there should be a status of forces agreement.

I'm sorry, you actually — there was a — there was an effort on the part of the president to have a status of forces agreement, and I concurred in that, and said that we should have some number of troops that stayed on. That was something I concurred with…"
Pardon me for being confused, but I thought Romney had called into question President Obama's handling of the status of forces agreement. Mitt was not only confusing the viewers, I think he was confusing himself.
When the topic of Syria finally broached, I was dead certain that the Romney camp had stolen President Obama's play book. Read the transcript and tell me if this has not been the President's position from day one in Syria.
Romney:
"And finally, we don't want to have military involvement there. We don't want to get drawn into a military conflict.

And so the right course for us, is working through our partners and with our own resources, to identify responsible parties within Syria, organize them, bring them together in a — in a form of — if not government, a form of — of — of council that can take the lead in Syria. And then make sure they have the arms necessary to defend themselves. We do need to make sure that they don't have arms that get into the — the wrong hands. Those arms could be used to hurt us down the road. We need to make sure as well that we coordinate this effort with our allies, and particularly with — with Israel.

I don't want to have our military involved in Syria. I don't think there is a necessity to put our military in Syria at this stage."
It is my proposal to the Obama-Biden 2012 campaign that they hire Mitt Romney as their spokesperson. It is clear that Romney has studied the Presidents plan for Syria and completely concurs with it.
It wasn't long before Mitt saw an opening in the fence and decided to stray from foreign policy to domestic politics. When talking about Iran he brought our economy into the discussion:
"But for us to be able to promote those principles of peace requires us to be strong. And that begins with a strong economy here at home. Unfortunately, the economy is not stronger. When the — when the president of Iraq — excuse me, of Iran, Ahmadinejad, says that our debt makes us not a great country, that's a frightening thing."
Later in the debate Romney would call for Ahmadinejad to be indicted for genocide under the Geneva Convention, "I'd make sure that Ahmadinejad is indicted under the Genocide Convention. His words amount to genocide incitation. I would indict him for it." I am uncertain why Romney would put much credence in any thing Ahmadinejad says with regards to our economic status when he thinks he is a war criminal.
When Bob Schieffer is able to lasso Romney back to foreign policy, he asked him to square his military build with the fiscal restraints of our current situation.
Schieffer: "Governor, you say you want a bigger military. You want a bigger Navy. You don't want to cut defense spending. What I want to ask you — we were talking about financial problems in this country. Where are you going to get the money?"
Romney:  "We're going to cut about 5 percent of the discretionary budget, excluding military. That's number one.
We do it by getting — by reducing spending in a whole series of programs. By the way, number one I get rid of is Obamacare.
There are a number of things that sound good, but frankly, we just can't afford them. And that one doesn't sound good and it's not affordable. So I'd get rid of that one from day one. To the extent humanly possible, we get that out. We take program after program that we don't absolutely have to have, and we get rid of them."
Romney elevates Obamacare to the level of Iran and Russia as a national security threat. This is the first that we have heard of this Romney position. American citizens with pre-existing conditions that can't afford health insurance are one of the greatest threats to U.S. security as spinning centrifuges in Iran? Brilliant. Even Bob Schieffer is having a hard time following Romney's logic of interjecting domestic healthcare policy in a discussion of the military budget.
Romney: "But the military — let's get back to the military, though."
Schieffer: "That's what I'm trying…"
Even the President has to highlight Romney's disparate logic when it comes to increasing the military budget:
"You mentioned the Navy, for example, and that we have fewer ships than we did in 1916. Well, Governor, we also have fewer horses and bayonets, because the nature of our military's changed. We have these things called aircraft carriers, where planes land on them. We have these ships that go underwater, nuclear submarines."
WATCH our favorite part of the night (story continues below the video):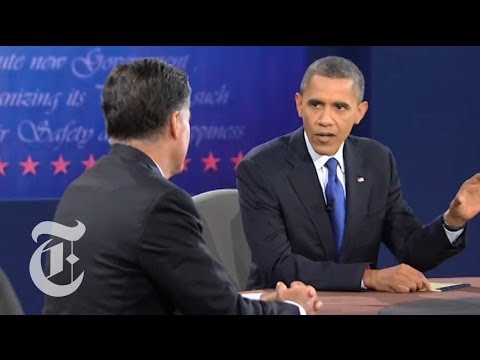 The President continues to help Romney understand that many of his arguments are endorsing his policies:
"I mean, I'm — I'm pleased that you now are endorsing our policy of applying diplomatic pressure and potentially having bilateral discussions with the Iranians to end their nuclear program. But just a few years ago you said that's something you'd never do."
As the debate wore on, Romney starts getting increasingly agitated that he doesn't seem to be controlling the discussion and topics.
Romney: "You can't — but you can't have the president just lay out a whole series of items without giving me a chance to respond."
Schieffer: "With respect, sir, you had laid out quite a program…"
Romney: "Well, that's probably true."
Schieffer: "We'll give you — we'll catch up."
At this point, I was starting to wonder if the mental stress wasn't taking its toll on Romney. He whines about giving a response, he then agrees with Bob Schieffer that he already talked at length about nothing. Romney goes on to agree with the President's time table for Afghanistan withdrawal:
"We've seen progress over the past several years. The surge has been successful and the training program is proceeding apace. There are now a large number of Afghan Security Forces, 350,000 that are ready to step in to provide security and we're going to be able to make that transition by the end of 2014."
Romney agrees with the President's handling of Pakistan:
"And I — I don't blame the administration for the fact that the relationship with Pakistan is strained. We — we had to go into Pakistan. We had to go in there to get Osama bin Laden. That was the right thing to do.

Romney agrees with the President's program for drone strikes on suspected terrorists, " And it's widely reported that drones are being used in drone strikes, and I support that and entirely, and feel the president was right to up the usage of that technology, and believe that we should continue to use it, to continue to go after the people that represent a threat to this nation and to our friends."
By the end of the debate Romney was exhausted. In one breath he would agree with the President, then in the next breath he would have to oppose the President. It became clear that this internal Ping-Pong logic match Mitt was playing in his head started to short circuit his brain. Finally, he started arguing with himself over education and teachers:
"And that's why it's so critical, that we make America once again the most attractive place in the world to start businesses, to build jobs, to grow the economy. And that's not going to happen by just hiring teachers"

"Look, I love to — I love teachers"

"The federal government didn't hire our teachers."

"But I love teachers."
As if to put an addled brain old man to bed in a nursing home, Bob Schieffer finally reassured Romney, "I think we all love teachers." I was waiting for Bob to pull the George Burns routine, "Say goodnight Mittens." To which Mitt would reply, "Goodnight Mittens."
Comments
comments