I follow politics like I follow my favorite sports teams. All season long, I celebrate or mourn the personnel moves they make in the off-season. I follow with great interest the trades they do or do not make and either wither with disgust or gleam with hope at the coaching changes that occur during the pre-season. I ingest the peaks and valleys during the regular season and then feel it in my bones when my interest crescendos as they enter the post-season. And just as the World Series approaches its Game Seven, so do we enter the crunch time of American Politics.
This is a time that scares the hell out of me.
What scares me is that there is a portion of the electorate that only started following this campaign during the conventions and as a result, has only recently met Mitt Romney. And those same people may be casting their vote on the Mitt Romney that he has conveyed to the world in the last several months.
But this is not Mitt Romney. Republicans will claim that this is the re-emergence of Romney's true moderate nature but I charge that this is simply the latest incarnation of the ever-changing face of a man that has drastically altered his positions on abortion, taxes, healthcare and any other policy perspective required to obtain higher office.
But, again, those who have only recently joined the campaign may not know this. Many who joined this race upon watching the first presidential debate were suddenly introduced to a safe and reasonable Republican alternative. Obama took the night off, thus allowing Romney to paint this highly inaccurate portrait of himself and the President's re-election bid is on shaky ground because of it.
Does the undecided voter who recently joined the campaign even know what Bain Capital's job was? To streamline (or perhaps more accurately, STRIPMINE) companies by laying off workers and shipping jobs overseas to maximize corporate profits? The types of business decision-making paradigm that eliminates American jobs, not creates them? The same type of paradigm Romney would likely employ in the white house?
Does the average American voter know that Romney adamantly stated that 'corporations are people'?
WATCH (story continues below):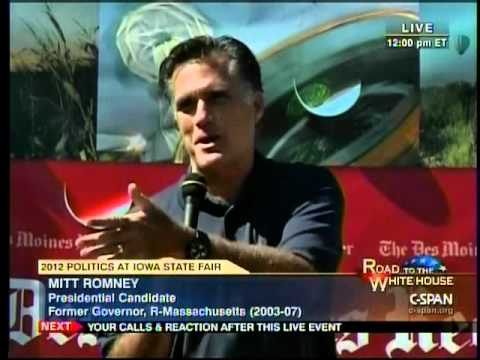 Do they care that he said that? They should because it speaks volumes about who he values and whose interests he will protect. Values that are in stark contrast to those of a candidate who got his start as a community organizer on the more downtrodden streets of Chicago.
Romney wholeheartedly embraced a Ryan budget that would turn Medicare into a voucher system but since the conventions, neither Romney nor Ryan have admitted to this. Since then, they have engaged in such a deafening and startlingly effective disinformation campaign about Obama's proposed cuts to Medicare that the average voter probably has no idea what to believe. The fact remains that Obama's proposed cuts would come from the payments to the Medicare providers, NOT from the benefits received.
Does the average senior swing-voter in Florida make that distinction? I hope so because if not, they might be casting their vote for the wrong reason.
How much does the average woman value their right to choose? Do they fully realize that the next president will most likely determine the trajectory of the Supreme Court for the next several decades by appointing one and maybe even two Justices? Do they realize that if that happens, there is a legitimate chance that Roe vs. Wade will be overturned?
Because the average woman needs to know that before she votes. She also needs to know that Romney used to support abortion rights but now opposes them because it is more convenient for a Republican candidate to do so in today's political climate. So a vote for Romney is a vote for a man with no convictions or backbone to speak of.
Romney has been pandering to the middle class as shamelessly as he has been pandering to women. "I love teachers," he said awkwardly and unconvincingly during the last debate. Well, when you vote and you want your vote to be for a candidate that will fight for the middle class, ask yourself, does Romney even know what the middle class is?
This is a man who pays an average of 14% income tax on his millions, far less than that of the average middle-class worker, and considers that to be a "fair" tax code. A man who has been an unrelenting champion for Bush's tax cuts for the wealthy and thinks that earning $374,000 a year in one year is "not very much money." A man who considers someone earning $250,000 a year to be a member of the middle class. So when Romney talks about advocating for the middle class, think about it, is he really talking about you?
Does the average Latino know that Romney hired Kris Kobach, the man behind Arizona's reprehensible immigration law, to be his advisor on immigration? And do they know that that particular law came closer to legalizing racial profiling than anything excluding steps taken in the immediate aftermath of 9/11? Do they also know that Romney opposed the DREAM Act, legislation that provides immigrants with a path to citizenship?
Because the average Latino voter needs to know that before they vote.
It's been a while since anybody talked about Romney strapping his diarrheic dog to the roof of his car and then laughed about it. Does anybody care? Because I believe it says something very basic about how he views those that can't fend for themselves…stick 'em in a box and let 'em shit all over themselves. Maybe he'll hose 'em off later when he stops for gas and a snack, so long as it doesn't ruin his vacation.
In the foreign policy debate, Obama failed to remind the country that when Romney went on his single overseas trip this summer, in a single week he insulted the British for their handling of the Olympics, he enflamed mid-east tensions with an ignorant comment about "cultural differences" and claimed Russia to be our biggest foe. It leads one to speculate if this is the amount of damage he can do in one week, how much could he do in four years?
Does the average voter realize that Romney possesses some undiagnosed strain of social autism that could result in a litany of foreign policy fuck-ups? Do they realize that international relations require a delicate touch and a basic ability to communicate that Romney lacks? Do they realize that when the President is in a room with a foreign leader, what he says can determine whether or not we go to war?
I hope they do. And I hope they think about that before they vote.
Was this small sliver of undecided voters paying attention when Romney prematurely lashed out against the current administration following the Benghazi attack? Because if they were, they would have seen a very un-presidential man displaying a reckless combination of ignorance, insensitivity and opportunism.
Were you watching?
Were you watching when Romney passed groundbreaking healthcare legislation when he was Governor of Massachusetts? If you were then you realized that that legislation inspired Obamacare, which is now the law of the land, one upheld by the highest court in the country. Yet the man who inspired it wants to overturn it on his first day of office and why? Because a Republican supporting a law that he himself admitted would be good for the country, would never get the Republican nomination.
Does the average undecided voter know what a shape-shifter is?
shape-shifter – Noun - one that seems able to change form or identity at will; especially : a mythical figure that can assume different forms (as of animals)
I like shape-shifting in my Twilight films but not in my commander in chief. I like to know what the President of the United States stands for and what values he will defend. Yes, Obama has made mistakes. No, he has not been a perfect president. But we know who he is and where he stands.
It is my fear that in economic times less than inspiring and in a world far from peaceful, Americans will walk into voting booths during Game Seven of the political World Series with just enough fear in their hearts to cast a vote for a man they have only gotten to know recently. And that that man will be elected President.
And after he is, those very same Americans will suddenly be getting to know a very different man. It will be a man they never knew existed, a man that seems to have come out of nowhere and stands for different things now that he is in office. It will be a horrible awakening for them, one that further embitters them towards politicians and the political process. They will be confused and angry because they trusted him and they never saw it coming.
But people like myself who have been watching all season long can see it coming.
We have been blogging about it to anyone we can get to listen.
We are trying to level with you. And we are trying to warn you.
Have you been listening?
Comments
comments