Like sands through the hourglass, so are the days of our lives…
That's a pretty perfect description for the soap opera unfolding around disgraced four-star General David Petraeus, who has found himself locked in the halls of a sex scandal that would put daytime TV to shame. My fellow Stew blogger, Kevin Knauss, has dubbed the melodrama, 50 Shades of Army Green.
And just like the bad, overwrought actors of daytime TV, the Petraeus apologists are stinking up the airwaves with their lame-ass excuses.
Enter, Pat Robertson.
Every time I see new "words of wisdom" from Pat Robertson, I'm reminded of a line from The Grinch Who Stole Christmas (live-action version with Jim Carrey): "Are you still alive?!"
And this is why:
"This is a four…he's a lieutenant colonel, she is an extremely good-looking woman; she is a marathon runner; she's run the Ironman triathlon, so she's running with him as she's writing the biography. And, uh, I think the term is propinquity, and there was a lot of propinquity going on […] the man's off in a foreign land and he's lonely and here's a good-lookin' lady throwing herself at him…I mean, he's a man."
WATCH (story continues below):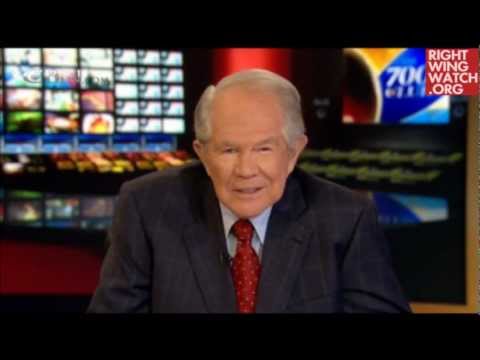 OK, first of all, Petraeus is a general, not a lieutenant colonel. Secondly, I actually would like to thank Robertson for teaching me a new word: propinquity. I will be using that, as in, there is an abnormal level of propinquity between Pat Robertson and pure, unadulterated bullshit. And lastly, I think Ol' Pat has a hard-on for Paula Broadwell – somebody get that man a Viagra, 'cause he's ready to blow!
All kidding aside, his comments showcase just how hollow values are with the "values voters" crew. Forget the sanctity of marriage crap! He's a man! Men get lonely when they're off in foreign lands! They just need an orifice to release the stress – any orifice will do – and here's a "good-lookin' lady" who's "throwing herself" at him, and she ain't his wife. No harm, no foul.
I can imagine that sounds a little harsh and uncouth, but those comments came from a man who has advocated for the beating of women, who has demonized women who adopt, and who has advised his viewers that divorce is A-OK for men if their spouse has Alzheimer's.
Robertson's propinquity to offensive comments is legendary and well documented, and I can only hope that his propinquity to irrelevance and utter shame and obscurity will bite him in the ass sooner rather than later.
Comments
comments