Welcome to The Stew's weekly column of winners and losers, heroes and zeroes, foolish and fabulous, in the world of politics, news and pop culture.
This week: Clowns take on the racists, Denny's CEO strikes out at Obamacare, and when all else fails, let's launch a baseless impeachment proceeding against President Obama…because he won reelection.
Heroes
White supremacists meet their match and get clowned out, while a Mississippi teacher puts her money where her mouth is.
Clown Protesters in North Carolina: How do you effectively drown out a bunch of neo-Nazis and KKK jerks in Charlotte, North Carolina? With red noses and squeaky toys, of course!
When a group of white supremacists decided to hold an anti-immigration rally, they got more than they bargained for, and were met with a counter protest that outnumbered them five to one. But it wasn't a shouting match or a back-and-forth of epithets. No, the counter protesters all came dressed as clowns and managed to disrupt the hate rally with a little frivolity:
Members of the National Socialist Movement joined the Ku Klux Klan for an anti-immigration rally at Old City Hall on West Trade Street, but the counter-protesters outnumbered them at least five to one.

Instead of shouting, the protesters used squeaky toys, whistles, and noisemakers to drown out the amplified speeches.  Many dressed as clowns.

When the speakers talked about "White Power," the protesters sprinkled white flour.  Another held a sign reading "Wife Power."
That's one way to do it. I have to say, clowns freak me out, but in this case I could easily set aside my phobia and offer my support. And their overall point makes complete sense:
"The message from us is, you look silly," said Lacey Williams, the youth coordinator for Charlotte's Latin American Coalition. "We're dressed like clowns and you're the ones that look funny."

"Instead of meeting hate with hate, they were going to meet hate with love," said Strini of the protestors.

"I think it's really important to have a sense of humor," added Williams. "What they want is for us to fight them.  They want us to hit them with hate. We can't become them."

City council member John Autry, who represents east Charlotte's District 5, also wore a red nose to show his support of the counter-protesters.

"We're just a great big happy melting pot," said Autry. "I just wanted to come out here and make sure people understood that I did not support the views of the people behind up here with the microphones."
Well, when all else fails, send in the clowns!
WATCH: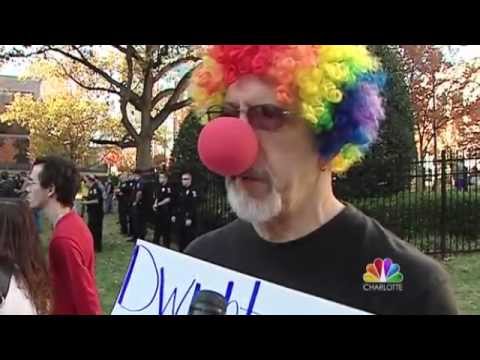 Deborah Bishop: Ms. Bishop is a Spanish teacher in Mississippi and she recently came into some money after appearing on Who Wants to be a Millionaire. She won $23,500 and put that money to good use:
Spanish teacher Deborah Bishop treated her 20 Spanish Honor Society students to a night on the town Wednesday — dinner at a fancy New Orleans restaurant, limousine pick-up and tickets to the opera, all while dropping off toy donations at the Children's Hospital on the way.

The night was a pricey excursion, costing Bishop $3,000 out of pocket, but was all made possible by a $23,500 prize she won in September on TV game show "Who Wants To Be A Millionaire?"

"I told [show host] Meredith Vieira with tears in my eyes that I wanted to bring my Spanish Honor Society to the opera," Bishop told WLOX. "I'd have plenty of money to pay for it, because I didn't want them to have to worry about it. I wanted to do this for them. Because they're good kids. They work really hard in my class. They're honor students and they should have the best of the best."

But Bishop's generosity doesn't stop there. She's putting more of her winnings into three $500 scholarships to encourage student dedication and philanthropy. She's also planning to donate to charities, and spend a little on shoes. Students told WLOX that they have been excitedly chattering about the outing all week.
This is why teachers are so important. They care about their students and they are some of the most self-sacrificing people on the planet. She could have easily taken that money and used it for herself, but instead, she put it where her heart is – her students. Bravo, Ms. Bishop!
Zeroes
The grousing continues from pouty business owners still smarting over the election, and one group calls for the impeachment of President Obama.
John Metz: Add another psychopath to the list of business owners who are making their employees suffer needlessly, all because their dude lost the election. John Metz is a Denny's Restaurant franchisee in Florida, who has decided to tack on a 5% Obamacare surcharge to every customer ticket at his restaurant:
"If I leave the prices the same, but say on the menu that there is a 5 percent surcharge for Obamacare, customers have two choices. They can either pay it and tip 15 or 20 percent, or if they really feel so inclined, they can reduce the amount of tip they give to the server, who is the primary beneficiary of Obamacare," Metz told The Huffington Post. "Although it may sound terrible that I'm doing this, it's the only alternative. I've got to pass the cost on to the consumer."

Metz is the franchisor of Hurricane Grill & Wings, which has 48 locations, five of which are corporate owned, and president and owner of RREMC Restaurants, which runs approximately 40 Denny's and several Dairy Queen locations. He planned to use the 5 percent surcharge tactic in all his restaurants starting in January 2014, when Obamacare is fully implemented.
When are we going to get it through our thick skulls that this reverence for "job creators" is just a sham? They don't care about their employees or the communities they serve. They care about one thing: the money.
Conservative Majority Fund: The tin-foil-hat brigade has gone into overdrive. The Conservative Majority Fund has launched a round of robo-calls calling for the impeachment of President Obama:
This is an urgent update from the Conservative Majority fund. If the thought of Obama's next four years makes you cringe, you need to hear this. We just learned that Obama's immediate plans are to close Guantanamo, give full amnesty to illegal aliens, and give the United Nations authority to tax Americans. And this is just in the short term. Our only recourse now is to move forward with the full impeachment of President Obama. We suspect that Obama is guilty of high crimes and misdemeanors and that there may be grounds for impeachment as is laid out in the constitution. Further, he may not even be a U.S. citizen because nobody, I mean no one, has seen an actual physical copy of his birth certificate. Impeachment is our only option. And Republicans are already considering Obama investigations. As the nation's most effective conservative group we are launching the official impeach Obama campaign.
For the love of Pete! What must it be like to live in these peoples' heads? Isn't there some way we can force these idiots to secede? Please?
That's it for this week! Join us next week for more Heroes and Zeroes!
Comments
comments