She was indignant. The woman sitting behind me at the Starbuck's told her sister, "We can't go there, that's Black Friday, we're shopping." Then she calmly added, "What are you going to wear?" In her mind it was official; Black Friday was a national holiday to be revered like Labor or Veterans Day. The mutation of historical customs happens over time. As the woman behind me talked about the tactical assault on which stores they would hit first, her two young daughters were sitting nearby absorbing the tableau of mother, aunt and grandmother discussing Black Friday plans.
Shopping: A Cardio Workout?
The day after Thanksgiving, or even the evening of, should be considered a day of exercise.  Malls and stores across the country open up to allow those of us who have been over stuffed with the goodness of the holiday meal time to walk about. A movement has started to curtail this therapeutic exercise time by promoting family values. Yes, there are those who want to stay home with their families instead of being the stewards of good cheer on Black Friday as retail clerks.
WATCH: Black Friday Sales on Thanksgiving Causes Employee Backlash (story continues below):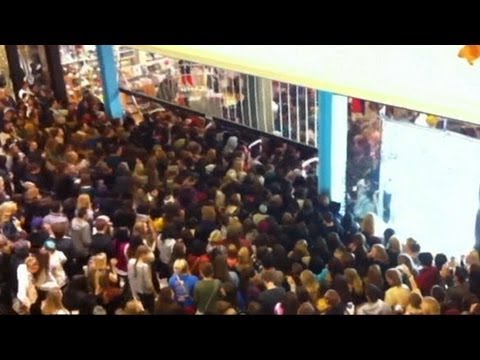 No respect for money
Not to be the arrogant wannabe economist that I am, but these people not only don't understand how much money is funneled into the economy on Black Friday, but how many calories are burned. The physical act of actually moving from couch to car to mall might be the necessary expenditure of energy to prevent atrial fibrillation for many in America. Wildly discounted items that draw people to shop at 8pm openings are the counter balance to a Thanksgiving menu laden with animal fat, carbohydrates and sickeningly sweet desserts.
Super sizing Black Friday
There was a time when the Thanksgiving gatherings were a celebration of harvests when thin margins of agricultural success existed. Failure to harvest dollars from consumers is no less important to the survival to the modern day pioneers of mass merchandising. No longer can the little store on Main Street serve the bulging mass of suburban shoppers. From warehouse stores to churches, every aspect of American capitalistic culture and infrastructure has been super sized.
Store Clerks underrated in chemical process
For the brick and mortar stores, they can't make sales when the doors are locked. Like chlorine disinfecting drinking water, the longer the "contact time" between the potential consumer and merchandise, the higher the probability of a purchase or killing the e. coli bacteria. Store employees are the catalyst for the the shopping transaction, except when you are shopping on-line.
I need my fix
With all the same Black Friday bargains on the retailer's website, what is the pressure to open the store before the giblet gravy is even ready? No experience meets the addictive needs of shoppers than physically being in the store hunting for that illusive bargain. If ridiculously early store hour openings on Thanksgiving Day (Black Thursday) generate a crush of shoppers and free media exposure, big retailers will continue the old tradition of prostituting every holiday as an opportunity to sell.
Turkeys are bor-ring
As much I would like to see the boycott of Walmart's Black Friday operational hours succeed, this is a rich fantasy on our part. America stands for the deterioration of customs and traditions that are not based on our consumer driven model of a nation. The shopping experience is more valued than the family experience. Bored suburban shoppers on Thanksgiving have confirmed this trend.
Sane-giving to replace thanksgiving
I won't be shopping at Walmart or any other store on Black Friday. I will do my best to avoid the family experience as well. What America really needs is an authentic gathering of folks that eschew both the commercialization of our national holidays and the equally overrated family time with relatives that have signed a petition to have their state secede from the nation. That is a Black Friday event I would most certainly attend.
Comments
comments