Things are getting nuts in Michigan as their legislative lame duck session kicks into high gear. Republican lawmakers are scrambling to ram through several pieces of legislation in regard to abortion and right to work laws, and it's going largely unnoticed and unreported.
On abortion, the legislature has revived the omnibus abortion bill, HB 5711, a monster piece of anti-choice legislation that contains TRAP laws, restrictions on abortion insurance, conscience clauses, and fetal remains restrictions, which, in their entirety, could make abortion services all but non-existent in that state:
As Michigan's current attempt to pass anti-union legislation dominates the coverage surrounding the state legislature, lawmakers are using the opportunity to revisit anti-abortion measures they hope to slip through before this session ends. Since five anti-choice state legislators lost their seats in last month's election, this may be the best time for the legislature to advance their far-right agenda — despite the fact that the majority of Michigan residents support legal access to abortion.
Earlier this year, women lawmakers were banned from the debate over reproductive rights and HB 5711, which led to an enormous outcry from the women of Michigan, and precipitated a reading of The Vagina Monologues at the State Capitol in protest.
On union busting, David Dayen of FireDogLake is reporting that the "right to work" anti-union law has now passed both state houses, with a clause "entered into the legislation, underway in the Michigan House, [that] would make it impossible to undo right to work by a referendum of the people":
Within a matter of hours, both houses of the Michigan legislature passed right to work legislation, while arrests and lockdowns occurred inside and outside the chamber. In the end, Michigan Democrats staged a walkout to protest the closed Capitol. But eventually, the votes were taken, through a gut-and-amend process with a substitute bill that was supposed to create a commission to deal with labor disputes. The main bill then passed the House by a 58-52 vote, and the Senate 22-16.
Massive protests, reminiscent of the Wisconsin protests, took place at the state capitol as many were arrested and pepper-sprayed:
Michigan State Police say eight protesters have been arrested for disobeying lawful command, trying to push their way into Senate chambers.

Police sprayed chemical munitions into a crowd when it tried to rush the Senate floor, said Michigan State Police Inspector Gene Adamczyk.

"When several of the individuals rushed the troopers, they used chemical munitions to disperse the crowd," he said. "It would be a lot worse if someone gets hurt and I failed to act."

The police blocked the entrance to the Capitol, leaving several hundred people outside waiting to get inside.
WATCH (story continues below):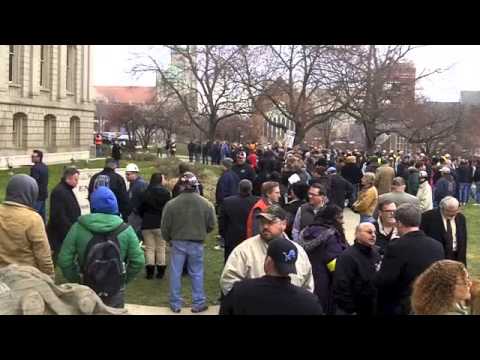 These fights are not over yet, people, so don't you dare think you can sit back and rest on your laurels. Republicans who may have been ousted from their seats are doing everything in their power to pass these laws before they're forced to vacate. And Michigan has morphed into yet another ground zero for civil and union rights.
Comments
comments