When you look at the mechanics of this story, it's quite impressive and there is a certain "wow" factor that is undeniable. In the space of three business days, Michigan Republicans had their "right to work" laws signed, sealed and delivered.
The legislation, approved by both houses of the state legislature last Friday, has now been signed into law by Governor Rick Snyder, who signed the legislation behind closed doors on Tuesday night, despite massive protests at the State Capitol, which numbered over 10,000. This Koch/GOP coup caught everyone – Democrats and union leaders – unawares, and they were completely blindsided by Snyder, who had previously stated he had no interest in "right to work" legislation because it was too "divisive."
My first questions on that would be: Why on earth would you believe him or take him at his word? Did Scott Walker teach you nothing?
First rule of thumb: Republicans lie – through their teeth.
That being said, there's a lot to get to, so let's dive right in…
The laws themselves allow for public and private sector workers to opt out of paying union dues, even though those same workers would benefit from any salary increases and health insurance or pension benefits that would result from union representation and collective bargaining agreements. The legislation contains language pulled directly from model legislation drafted by the Koch brothers-funded American Legislative Exchange Council, or ALEC, as the Center for Media and Democracy points out (emphasis added):
Both HB 4003, which affects public sector unions, and HB 4054 / SB 116 affecting private sector unions, undermine collective bargaining by allowing workers to opt-out of paying the costs of union representation. As the Center for Media and Democracy's Executive Director Lisa Graves reported today, the move is calculated political payback attacking unions for supporting Democrats. Wages are lower for both union and non-union workers in Right to Work states, according to the Economic Policy Institute.

The legislation is straight out of the Koch-funded ALEC playbook. Compare the language in HB 4003 and HB 4054 with the ALEC "model" Right to Work Act:
The push for these two laws was facilitated by Americans for Prosperity, another Koch-backed organization that parades as a "grassroots" activist group, but which is, in fact, a well-funded astroturf organization that also had a heavy hand in the union-busting activities in Wisconsin last year.
On Tuesday's Hardball with Chris Matthews, a talking head for AFP showed up and was grilled by Matthews, who demanded to know who pays his salary. It was a conversation that did not go well:
MATTHEWS: Let me go to Mr. Hagerstrum. Why are Republicans and your organization against unions because this is pretty much a union gutting operation. You would like to see — you work for the Koch brothers. They don't like unions. Why are you working for them?

HAGERSTRUM: You know, I work for Americans for Prosperity. This is not about the Koch brothers.

MATTHEWS: Who is paying your salary?

HAGERSTRUM: I work for Americans for Prosperity…

MATTHEWS: Who is paying your salary?
To Tweety's credit, he morphs into a bit of a pit bull and refuses to let the issue drop, which results in an extreme case of les discomfort…
WATCH (story continues below):
As for Americans for Prosperity, they had several tents stationed at the protests, and there is a video making the rounds claiming that a "union mob" "destroyed" one of the tents, but as Marcy Wheeler reports:
When I saw this video–claiming that a "violent mob" destroyed the tent the Koch brothers had paid for in front of the Michigan Capitol–I knew right away it was likely a false flag. After all, Stranahan, James O'Keefe's buddy, first posted it. Within minutes it was up at Drudge.
WATCH (story continues below):
The account of the "destruction" of this tent was immediately contradicted by an eyewitness, Tom Duckworth, who stated that operatives for Americans for Prosperity staged the altercation themselves. From Eclectablog:
As it turns out, American for Prosperity (AFP) themselves were responsible for at least one of the tents coming down. Tom Duckworth watched one of the folks that had been in the AFP tent go around and loosen the straps on the tent. According to Duckworth, "the tent came down from the INSIDE."
In a second video, also on right-wing high-rotation, we have a Fox News "reporter," Steve Crowder, shown in an altercation with protesters, where punches are actually thrown.
WATCH (story continues below):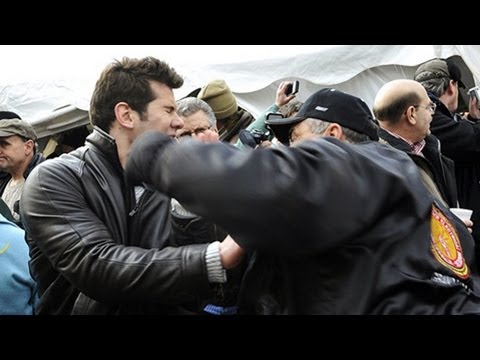 But again, as Marcy Wheeler reports:
I assume, given that the cops say the tent was no big deal and no arrests have been made, Crowder did not share his accusations of assault with any of the hundreds of cops standing right near by.

Given that there were witnesses to the early confrontation, where Crowder was clearly inciting people, it amuses me he tried to make a video showing the same people.
Wheeler tried to engage Crowder on Twitter, asking him to explain the heavy editing of his video and whether O'Keefe's stooge, Stranahan was involved:
Those tweets to Crowder were deleted from his timeline and Wheeler, predictably, did not receive a response.
With all of that being said, where do we stand now in regard to these new laws? Unfortunately, Michigan voters cannot go down the same road of Ohio voters, who negated a similar measure by their governor, John Kasich, through a referendum. But they do have another option: a state ballot measure. From ThinkProgress:
Anti-union lawmakers attached a budget appropriation to the bill in order to thwart efforts to repeal it by referendum — the Michigan Constitution provides that "[t]he power of referendum does not extend to acts making appropriations for state institutions or to meet deficiencies in state funds." This is not the end of the story, however. Under that same constitution, Michigan voters may still restore the lost wages and collective bargaining power denied by this bill through a state ballot initiative:

The people reserve to themselves the power to propose laws and to enact and reject laws, called the initiative, and the power to approve or reject laws enacted by the legislature, called the referendum. The power of initiative extends only to laws which the legislature may enact under this constitution. The power of referendum does not extend to acts making appropriations for state institutions or to meet deficiencies in state funds and must be invoked in the manner prescribed by law within 90 days following the final adjournment of the legislative session at which the law was enacted. To invoke the initiative or referendum, petitions signed by a number of registered electors, not less than eight percent for initiative and five percent for referendum of the total vote cast for all candidates for governor at the last preceding general election at which a governor was elected shall be required.

No law as to which the power of referendum properly has been invoked shall be effective thereafter unless approved by a majority of the electors voting thereon at the next general election.
Needless to say, this was a huge, impressive power-grab by Michigan Republicans; they performed an end-runaround with calculated precision, and they succeeded. And in the wake of it all, there's a part of me that has little sympathy.
Elections. Have. Consequences.
Republicans. Lie.
Quit. Voting. Them. In.
How many more examples do we need before we realize that the Republicans have no interest in "We the People," but instead have sold their souls to "We the Highest Bidder?"
It would seem to be as plain as the nose on our face, but cutting off said nose to spite our face seems to be all the rage.
Comments
comments