Welcome to The Stew's weekly column of winners and losers, heroes and zeroes, foolish and fabulous, in the world of politics, news and pop culture.
Heroes
Politifact calls Romney out on his big Jeep lie.
Politifact: Score another "victory" by Mitt Romney and his campaign – if by victory you mean utter failure, and I do. Remember that big lie Romney told about Jeep moving their production lines to China? Remember how that claim was refuted by Jeep and their parent company, Chrysler? Remember how the Romney campaign doubled then tripled down on their assertions? Well, Politifact has named that gem as their "Lie of the Year," as in "Pants on Fire":
It was a lie told in the critical state of Ohio in the final days of a close campaign — that Jeep was moving its U.S. production to China. It originated with a conservative blogger, who twisted an accurate news story into a falsehood. Then it picked up steam when the Drudge Report ran with it. Even though Jeep's parent company gave a quick and clear denial, Mitt Romney repeated it and his campaign turned it into a TV ad.

And they stood by the claim, even as the media and the public expressed collective outrage against something so obviously false.

People often say that politicians don't pay a price for deception, but this time was different: A flood of negative press coverage rained down on the Romney campaign, and he failed to turn the tide in Ohio, the most important state in the presidential election.
Zeroes
As with the tragedy in the Aurora movie theater shooting, the hideous evangelicals have come crawling out of the woodwork to deliver their atrocious two cents on the tragedy at Sandy Hook Elementary where twenty children and six adults were massacred.
Bryan Fischer: This man is such an affront to humanity, I'm not sure I can even put it into words, and his comments after the Sandy Hook tragedy prove what a scum-sucking, deplorable excuse for a human being he is:
"You know, the question's going to come up: where was God? I thought God cared about the little children, God protected the little children. Where was God when all this went down? And here's the bottom line: God is not going to go where he's not wanted […] We have spent fifty years telling God to get lost; telling God we do not want you in our schools […] We have kicked god out of our public school system, and I think God would say to us, "Hey, I'll be glad to protect your children, but you've got to invite me back into your world first; I'm not gonna go where I'm  not wanted – I am a gentleman.""
And an asshole, apparently. If that's the kind of god Fischer and his followers serve, I want no part of it.
WATCH (story continues below):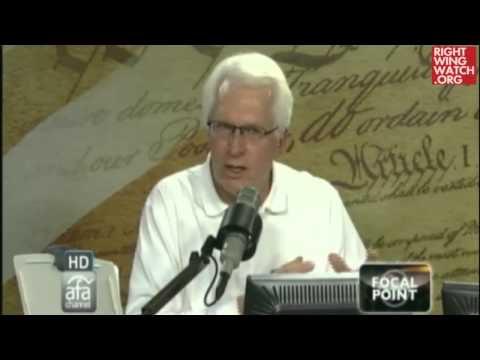 Mike Huckabee: Fischer wasn't alone in evangelical assholery. Mike Huckabee decided to shove his foot in it, too, in an interview with Neil Cavuto on Fox News:
NEIL CAVUTO: You know, inevitably people ask after tragedies like this, how could God let this happen?

HUCKABEE: Well, you know, it's an interesting thing. We ask why there is violence in our schools, but we've systematically removed God from our schools. Should we be so surprised that schools would become a place of carnage because we've made it a place where we don't want to talk about eternity, life, what responsibility means, accountability? That we're not just going to have to be accountable to the police, if they catch us. But one day, we will stand before a Holy God in judgment. If we don't believe that, then we don't fear that.
WATCH (story continues below):
I've said before that I believe the evangelical and Christian community, if they don't want to be lumped into the same category as these hideous freaks, needs to take a stand against them, loudly and with force; they need to take back the conversation and relegate these jerks to their very far margins.
Or, as Dan Savage would put it:
"People write to me constantly and say, "Dan, I'm a Christian and I'm offended by your statements – we are not all like that." But the reason that so many of us have the impression that you are indeed all like that, and why Christianity has become synonymous with anti-gay, is because of these loud voices on the Christian right, and they've hijacked Christianity with your complicit silence enabling their hijacking of it. Liberal Christians, you need to do something about it. You need to tell them you're not all like that."
As with their anti-gay views, the same can be said for this nonsense oozing out of the right after the horrific Sandy Hook tragedy, where these heartless and despicable ideologues are simply rubbing salt into a wound that is unfathomable for the families who have lost their most precious loved ones.
That's it for this week! Join us next week for more Heroes and Zeroes!
Comments
comments