Whenever I write stories like this, I have to remind myself that I should not paint the canvas with such wide strokes, as I have a tendency to do, but that becomes increasingly hard not to do when I see videos of this nature. And there's something very truthful about the motives presented in this video that make me cringe in horror.
In a new short documentary, Gospel of Intolerance, first published by The New York Times and then posted to YouTube, the correlation between the Evangelical right-wing of America and the anti-gay persecution in Uganda is cemented. It's a brief but damning indictment of the role America's evangelical movement plays in the persecution, torture and even death of Ugandans under the "kill the gays" bill, and the violence-inciting, anti-gay sentiment that is sweeping the country, fomented in great part by American Christians.
Rev. Kapya Kaoma, an Episcopalian priest, who is featured in the short, has researched the connection between the anti-gay laws of Uganda and the Christian right, and in the film, he makes a startling pronouncement:
"I discovered that some American evangelicals, feeling that they have lost the culture war here at home, are now turning to Africa. Their goal: to wipe out what they call "sexual immorality," and their efforts are having a devastating effect in countries like Uganda."
That is a jarring statement for me, for some reason, and I'm not sure I can explain why. The sentiment is in my head, but I'm not sure I know how to or if I can put it into words.
But perhaps I'm over-thinking it. Maybe Lou Engle can give us some insight:
"The West has been in a decline. I think Africa is…it's the fire-pot of spiritual renewal and revival. It's very exciting to me."
Or maybe Mike Bickle can explain it even better:
"I've been doing Uganda because we're investing in these different churches there. We are in the most prosperous country in the world. What if we used our influence here and got money here – because you can get money here easier than anywhere in the world – it's just a natural connection."
Ding, ding, ding! We have a winner! Bickle is probably being more honest than Engle could ever be. For Engle to say that the "West has been in a decline," simply means that it no longer supports his brand of theological absolutism anymore.
So, what to do?
You fund it and you outsource it – with horrific, unspeakable consequences. Rev. Kaoma enunciates their aim:
"This movement believes that they have a God-given mandate to rule the world. To rule all spheres of society. And this is not just limited to religious spheres, but they believe that they have to have this influence in politics, in business, in education, in entertainment. Every kind of sector you might think of, to see themselves in authority."
Why? So they can demand the fealty of, "Those who are ready to kill those who are being homosexual, hands up! " because they haven't been "fathered properly."
There is something so viscerally disturbing about this film short, and I still don't think I can voice it properly. But it is eight minutes that will make you understand the destructive nature of the American evangelical movement.
WATCH: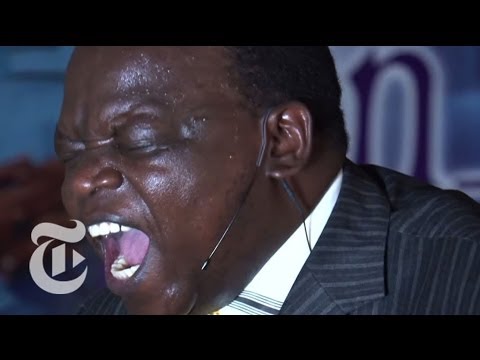 Comments
comments