In a speech at a winter meeting of Republican leaders Thursday, Republican Louisiana Governor Bobby Jindal attempted to portray a voice of reason and moderation, saying that "We've got to stop being the stupid party. It's time for a new Republican Party that talks like adults."
WATCH (story continues below):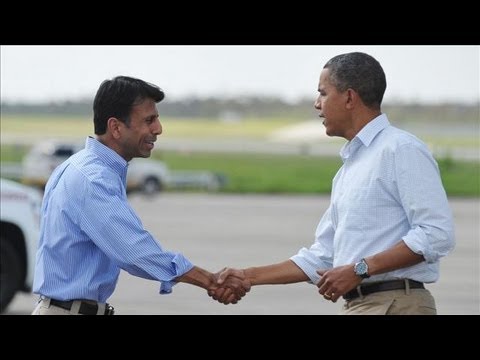 Jindal, who is but one of a number of opportunistic Republicans who hope to fill the void in GOP leadership leading up to 2016 added, "We had a number of Republicans damage the brand this year with offensive and bizarre comments. I'm here to say we've had enough of that."
Despite his tough, yet moderate remarks, Governor Jindal is anything but a moderate Republican and his record as Governor proves it.
EDUCATION
Jindal proposed and passed through Louisiana's state legislature last year vouchers to use public funds to pay for private and charter schools (unless you are Muslim), with little to no oversight on curriculum. That's right. Rather than allocate funds to improve the existing public school system, this failed solution defies logic, and implies that private and parochial  schooling is the only answer to the state's struggling education system, which ranks 47th nationwide. The voucher program was ruled unconstitutional by a judge last month.
Rather than raise pay and other incentives to improve the quality of teachers entering the system, does the answer really lie in forsaking struggling schools and sending some students to private school at taxpayer expense? Not likely. The second-term Governor's  claim that the plan would give "equal opportunity" to all students doesn't hold water considering that vouchers would have been available to only 5,000 students out of over 700,000 in the Louisiana public school system.
The court's ruling infuriated Jindal, prompting him to lash out at the teachers unions, in true and typical extremist fashion expected of today's right wing wankers with flawed and failed ideologies. Jindal has consistently been a poster boy for the ultra-conservative plague that has crept into the once sane and responsible GOP. His expressed contempt for the teachers unions is certainly indicative of the constant corporate narrative parroted by conservatives that have certainly contributed to the losing campaigns in recent House, Senate, and Presidential elections in which Democratic candidates received the majority of total votes, even in the House of Representatives, which still holds a Republican majority.
Blaming unions and pesky rules doesn't sound like something that one who wishes to represent a party that "talks like adults" would resort to.
In addition, Governor Bobby also thinks creationism should be taught in public schools as an "alternative," because students don't benefit when we "withhold information from them."
That alone makes Jindal the poster boy for GOP stupidity, not a maverick to combat idiocy in his own party.
WATCH (story continues below video):
HEALTHCARE
Jindal refused to implement the Medicaid expansion program in the Affordable Care Act.
These actions, along with his new tax proposal that will reportedly divert the tax burden away from the wealthiest citizens to the bottom 80% of earners in the state, are prime examples of why Jindal should still be viewed as just another GOP leader skirting the fringes of the hateful and selfish Teabagger ideology in his actions and policies. This is a stark contrast from the pleas for reason and inclusion touted by the Governor's fiery speech Thursday evening. The effects of Jindal's right-wing partisan and unbalanced approach to Medicaid expansion will also put a stop to end-of-life hospice care for all adults over 21, effective at the end of this month.
These acts alone are directly contrary to Jindal's statements in his keynote address on Thursday. He seems to speak in a much more moderate tone on the national stage, but even a cursory glance at his actions on the state level as Governor categorically contradict that tone.
STIMULUS HYPOCRISY
Another embarrassing example came back in 2009 when, after being one of the most vocal opponents to the Recovery Act, Jindal toured around Louisiana presenting giant sweepstakes-sized checks from those very same federal stimulus funds to several communities and programs all over the state.
Actions speak louder than words, and Jindal's actions as Louisiana's Governor have drowned out his attempts to appear moderate, or as a serious candidate who hasn't even managed to implement policy in his own state that ISN'T completely stupid.
Comments
comments