Senator Ted Cruz (R-TX) took aim this week at Senator Feinstein (D-CA) over the banning of assault weapons like the verbal bully he has shown himself to be. Cruz lectured Feinstein on the Bill of Rights as if his recent Senatorial election had crowned him supreme totalitarian defender of the constitution.
WATCH (story continues below the video):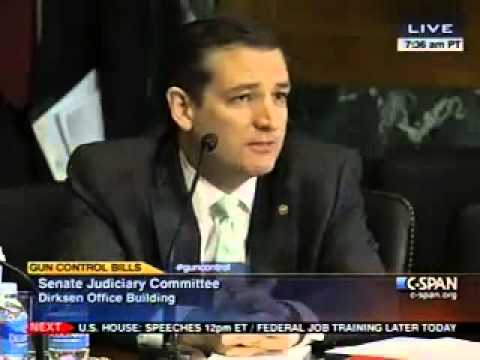 We got a glimpse of how Cruz perceives himself as a self-righteous crusader for the mythical conservative concepts of America with his aggressive questioning of Chuck Hagel during the recent Secretary of Defense confirmation hearings. With Cruz's rhetorical debate style questioning of Feinstein over the nature of Second Amendment rights, and by implication her simplistic school girl understanding of the Constitution, we have a clear window into his soul.
Cruz the Intimidator
Ted Cruz is not a politician. Ted Cruz is a bully. Ted Cruz seeks to intimidate those who do not share his "original intent" view of the Constitution with his excellent grasp of law and debate. Feinstein didn't flinch at his preposterous assault rifle arguments. The only thing that stops a bad politician with an original intent view of the Constitution is a good politician with a real world view of the Constitution.
Feinstein's Real World Experience
A distinguishing difference between Ted Cruz and Dianne Feinstein are their world views shaped by life experiences. Dianne Feinstein was the first person to walk in on the carnage left by an angry white man in 1978. She opened the door inside of San Francisco's City Hall to find Supervisor Harvey Milk assassinated by former Supervisor Dan White who had also just assassinated Mayor Moscone a few offices down the hall.
Eleven years later in Stockton, not far from San Francisco, Patrick Purdy would enter the school yard at Cleveland Elementary School and start shooting at the Southeast Asian children, killing 5 and wounding 29. Purdy's use of an assault rifle led Senator Feinstein to author the original Federal Assault Weapons Ban in 1994.
The Reality of Blood
Ted Cruz may assume that Dianne Feinstein is suffering from Post Traumatic Stress Disorder. But just as Chuck Hagel received two Purple Hearts serving our country, Dianne Feinstein has earned her stripes in the war to curb gun violence. The junior Tea Party Senator from Texas, Ted Cruz, should at least attempt to show more deference to men and women who have dedicated their lives to America.
What are the life experiences of Ted Cruz? Graduate of Second Baptist High School in Houston, Princeton University Bachelor of Arts, Harvard University Juris Doctorate. The closest thing Cruz has seen to battle is participating in Princeton debate competitions. His insulated world of higher education and legal career has created his constricted and inflexible world view. Hagel and Feinstein have shown us that sometimes you need to get blood on your hands to understand how the real world operates.
You can see from the glares and scowl on Ted Cruz's face when he was interrogating Feinstein over her proposed assault weapons ban that he is a man who clearly believes she is not his intellectual equivalent. His deadpan facial expression when Feinstein replies to his Constitutional lecture betrays his disdain and contempt for political discourse in opposition to his own views.
The rigid interpretation of the Constitution that Ted Cruz has embraced has been rebuffed by several amendments to our constitution and Supreme Court rulings reflecting the cultural shifts in our country since the document's enactment in 1789. The American people view the Constitution as a living document with the ability to flex and grow while protecting our rights and liberties.
Dictator Cruz
Ted Cruz is exhibiting the same contempt for opponents and unflinching allegiance to his political dogma characteristic of totalitarian dictators such as Stalin, Mao, Pinochet and Castro. There is little doubt that Cruz would have argued that the Thirteenth Amendment abolishing slavery, and the Nineteenth Amendment granting women the right to vote, were an abomination to the original intent of the Constitution. Given the chance, Cruz's dogmatic cultural personality would probably approve of suppressing dissent such as the civil rights movement under the guise of homeland security.
Ted Cruz is a danger to democracy because he has shown disregard and little tolerance for people that have an opposing ideological view to his. We have not heard the last of Senator Cruz. Undoubtedly he will display his self-ordained moral superiority in attempt intimidate his fellow Senators and remind Americans of his intellectual prowess. What Ted Cruz doesn't understand is that normal Americans wear the body armor of common sense to deflect the assault rifle rhetoric he so scornfully fires from his unrealistic and self-righteous Senate perch.
Comments
comments