The Human Rights Campaign has just released the latest installment of their Americans for Marriage Equality video series with none other than Secretary Hillary Clinton. While serving as this nation's Secretary of State, decorum dictated that she never speak publicly about policy issues or domestic affairs. But now that she's out of office she can speak freely about an issue that she learned so much about while representing our country abroad.
"I believe America is at its best when we champion the freedom and dignity of every human being. That's who we are. It's in our DNA.

[...]

"Traveling the world these past four years reaffirmed and deepened my pride in our country and the ideals we stand for. It also inspired and challenged me to think anew about who we are and the values we represent to the world."
Secretary Clinton recounts a meeting with a young Tunisian man following an uprising in that country. The young man asked Mrs. Clinton how America might teach his country more tolerance towards LGBT people. His ability to see the United States as a "beacon" of hope inspired her to make LGBT rights a priority.
Please WATCH and SHARE: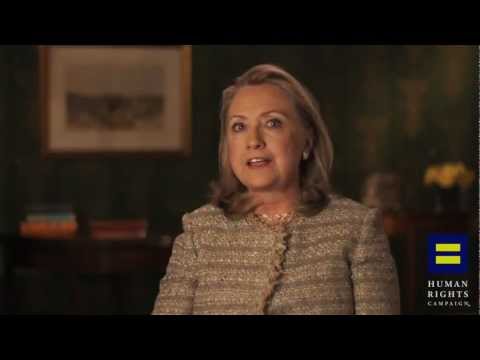 More Stew on the Subject: MARRIAGE EQUALITY
======
Comments
comments