"Finding your own voice" – That's the message that Dave Grohl delivered to a captivated crowd in Austin last March.
The Foo Fighters founder and former Nirvana drummer gave the keynote address at the annual South By Southwest (SXSW) festival, and brought the house down as he spoke on a very personal, entertaining, and inspirational level about everything from his childhood listening to Edgar Winter to his confession of his fondness for Gangnam Style. 
In his opening (full video of the speech below), Grohl recalled how his upbringing had prepared him to deliver the address.
"Having been raised by a former DC political speechwriter and a former public speaking teacher, it is practically written in my DNA zipper that I should feel the insatiable need to stand in front of a room of total strangers and BULLSHIT them. As a child, my father's lectures were legendary…and frequent. Great works of literature, that stay with me to this day and, if anything, taught me how to give loooong lectures myself."
As he recalled those younger days, Grohl seemed to relive the excitement, wonder, and inspiration that young artists feel when they experience that genuine love of their craft for the first time. He recalls his reaction after the first time he heard Edgar Winter's instrumental 1975 hit, "Frankenstein" -on an old turntable that his mother borrowed from the school on weekends- and how that music inspired him to start making music of his own, and finding his own voice.
"So, it wasn't long until I had my first guitar, an old Sears Silvertone with the amp built into the case. It smelled like an old attic full of mothballs and burning wire, and sounded like that 'goats yelling like humans,' but it instantly became my obsession. It was this guitar, and a Beatles songbook that ultimately set my life in . . . ahem . . one direction. Never one for taking lessons or direction, I was left to my own devices and devoted every waking hour to playing music. It became my religion. The record store my church. The rock stars my saints, and their songs my hymns."
He went on to speak of his journey of musical discovery, and recalled how he'd discovered how to multitrack songs using a couple of old tape recorders in his bedroom and realized that he didn't need any labels, managers, or expensive studio to create his art or project his voice to the world. A message to aspiring musicians or other artists (young and old) neither do you!
From those earliest days listening to Frankenstein to the first time he fell in love with the punk rock of the early 80′s, to his days with Nirvana in the 90′s, his voice had fully taken form. Grohl recalled meeting with the late Kurt Cobain for the first time to join the now legendary band.
"Kurt had, without a doubt, found HIS voice. Every practice would begin with an improvisational, free-form jam, which kind of served as an exercise in dynamic and musical collaboration/communication. We were speaking to each other without words. Verbal communication was never really Nirvana's forte, so we spoke to each other with our instruments. And the combination of our three "voices" resulted in a sound that eventually caught the ear of a major label record company. Or 10 major label record companies . . ."
He also recalled the sadness and pain felt after the death of Cobain from suicide in 1994.
"When Kurt died, I was lost. I was numb. The music that I had devoted my life to had now betrayed me and broken my heart. I had . . . no voice. I turned off the radio, I put away my records, and packed up my drums. I couldn't bear to hear someone elses voice singing about pain, or joy, or love, or hate. Not one note. It just hurt much too much."
One main thesis of the speech about how "the musician comes first" came full circle, as Grohl recalled how he'd finally dealt with the death of Cobain by making music and finding his voice again. He recalls making his first Foo Fighters album alone in a rented studio in six days, playing every instrument and writing every note and lyric in every song.
"After all that had happened, deep down I was still the same kid that, at 13 years old, realized I could start my own band, I could write my own song, I could record my own record, I could start my own label, I could release my own record, I could book my own shows, I could write and publish my own fanzine, I could silkscreen my own T-shirts . . . I could do all of this myself. It may have been an entirely different world now, but once again, there was no right or wrong . . . because it was all mine."
Grohl offered hope and inspiration to young, aspiring artists, in attendance who might long to express their own voices.
"It's there, if you want it. Now, more than ever, independence as a musician has been blessed by the advance of technology, making it easier for any inspired young musician to start their own band, write their own song, record their own record, book their own shows, write and publish their own fanzine (although now I believe you call it a "blog"?) . . . now more than ever, YOU can do this, it can be all yours. And left to your own devices, you can find YOUR VOICE."
The speech that Dave Grohl delivered this year is one that EVERY musician, artist, or any other person with aspirations should hear. It will captivate you and hold you for over 45 minutes, and that's rare in these days when we get so much of our information and cultural material in short, truncated bytes. I must admit myself that I'll normally skip a video if I see a length of more than a few minutes, but this one kept my attention, and evoked a gambit of different emotions that are powerful, and inspiration that is indelible.
Grohl's new documentary film, Sound City, recalls the legendary and unassuming studio that was used for recording many iconic albums, including Nirvana's "Nevermind".
Through the years, Dave Grohl has paid his dues, and judging by this unforgettable speech, Dave Grohl has definitely found HIS voice.
WATCH the entire Dave Grohl speech at SXSW here: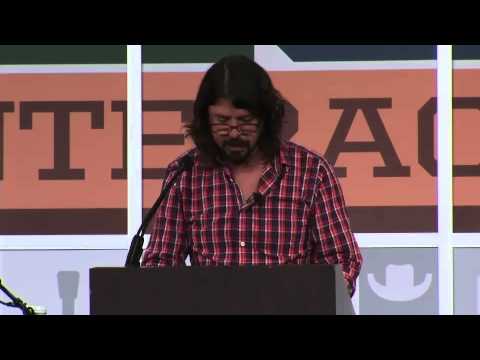 Comments
comments