I can't help but root for Anthony Weiner. From a psychological perspective, I find this fact to be eminently fascinating. But as a New Yorker and avid fan of American cinema, I find it to be all too predictable.
Politics is theater. And politics is a blood sport.
The notion of Anthony Weiner running for mayor of New York represents the best of both…a melodramatic train wreck wrought with myriad storylines and plot twists that you watch with equal parts intrigue and disgust. A train wreck of which you could not avert your eyes if you tried.
Two years ago, Wiener, one of my favorite rising stars in the Democratic party, disgraced said party, himself, his family and the 9th Congressional district of New York when he Tweeted pictures of his…well…wiener…to a female follower.
He resigned soon after. And many presumed he was gone forever.
But he's back baby!
In April, Weiner and his wife Huma Abedin appeared in the New York Times magazine in an article that unapologetically served as an opening salvo in an attempt to resurrect Weiner's political career. Surely enough, he announced his candidacy for New York Mayor a month later.
And he is not only in the race, but he is flirting (poor word choice?) with the underdog upset of the ages. As of a week ago, Weiner has drawn closer to the frontrunner Christine Quinn and now trails her by only five points.
So by my math, the time it takes to go from young, political hopeful – to horny, tactless, brainless Congressman – to unemployed, disgraced leper – to momentum-gathering mayoral candidate is…twenty-three months.
God bless America!
Trying to rationalize a career arch such as this can result in an embolism. So, to mitigate this, try to keep in mind the following. In all fairness, Weiner was, in his day; a tenacious campaigner, a skilled political operator and a passionate Congressman. A VERY passionate Congressman.
WATCH Weiner's passion at work (story continues below the video):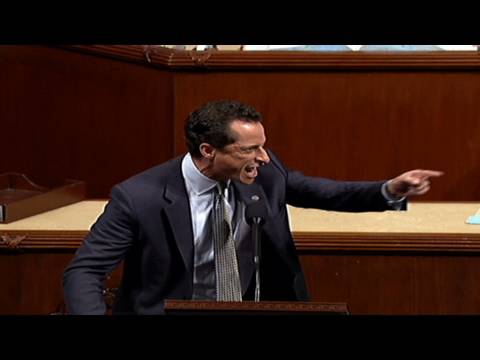 In addition to championing the cause of 9-11 first responders during his tenure in Congress, he was also a fervent voice for women's rights and the middle class. But perhaps what is most pertinent in his revival is the fact that he is a card-carrying Democratic. Because Dems just love to rally around and get behind a disgraced wonder boy. Yeah, we're talkin' about you Willy.
Bill Clinton fell hard…banging an intern, lying about it and hitting the ground with a thud that echoed through the halls of Congress in what proved to be an unsuccessful attempt to impeach him.
But he rose again…slowly and steadily until eventually reaching a dramatic crescendo at the 2012 Democratic National Convention. I still get goose bumps just thinking about that speech.
Hillary's ride was perhaps equally dramatic; bottoming out in a bruising presidential primary only to ascend to a highly proficient Secretary of State, which established her as the current Democratic frontrunner for the 2016 presidential race.
But Anthony Weiner is a different breed. His fall from grace was televised AND Tweeted; transgressions that were considerably magnified in a culture obsessed with trending social media tides that gravitate toward scandal and public humiliation.
In a nano-second, which incidentally is the same amount of time it takes to click on the 'Tweet' button, Weiner's political career suffered a sudden and what at the time seemed to be an unrecoverable political suicide. Whether it was driven by a genuine quest for infidelity, a playful albeit X-rated flirtation or a misguided appeal for phallic and/or political approval, is irrelevant.
A sitting Congressman sent pictures of his erect penis to strangers over the Internet.
Such an act is equal parts stupid, tasteless and morally reprehensible. But in today's 24-hour news cycle, even though such a reprehensible act may not be forgivable, it may very well be forgettable.
It certainly seems that way. At his first mayoral debate, which was not attended by the frontrunner Christine Quinn, Weiner was an emphatic voice that was greeted enthusiastically by those in attendance.
He is climbing in the polls and yes; here is where I find myself curiously rooting for him.
But why?
I usually don't root for stupidity, tactlessness and deceit. So why do I pull for him? I love me an underdog so what gives? Is this simply motivated by the same base emotions that make me root for Sean Astin every time I watch the film Rudy? With Anthony Weiner cast in the role of the scrappy, huge-hearted hustle bunny?
No. This is slightly more complex than that.
I root for Anthony Wiener for the same reason that I root for Gene Hackman in Hoosiers. I root for a man once disgraced, exiled and left for dead…a man who summons, from deep within himself, the courage and the will to resurrect and redefine himself in hopes of rising from the ashes as a cleaner and better version of himself.
We should all strive for the same. Faith in a new and improved Weiner is tantamount to the faith we have or aspire to have in ourselves.
That may be the most ridiculous thing I've ever written.
But that doesn't make it any less true.
Comments
comments