Rick Santorum's gearing up for another possible run at the presidency in 2016 by making appearances in Iowa. Speaking before a group of GOP party faithful this week in Lyon County, Iowa, Santorum insisted that Republicans need to stop using terms to define different classes in American because, "There's no class in America."
Santorum insisted that unlike Democrats, the Republican party, "values the dignity of every human life," and needs to stop using those terms. But as Right Wing Watch points out, Ricky has used those terms many times in the past to spew his extremist viewpoints.
In regards to education and the "TAX RELIEF EXTENSION RECONCILIATION ACT OF 2005″:
As I have noted on other occasions, this bill is really a "tax increase prevention" bill. One of the many important elements is the college tuition deduction. This provision was established in the 2001 tax relief bill and provides an above-the-line deduction for higher education expenses, commonly called the "college tuition deduction." The eligibility for the deduction is limited based on income and is aimed at helping middle-class American families that are struggling to meet the rising cost of college tuition.
In regards to the "BANKRUPTCY ABUSE PREVENTION AND CONSUMER PROTECTION ACT OF 2005″:
This is a modest approach. It has half the increase the Senator from Massachusetts is suggesting. It focuses on those who are most in need. At the same time, it doesn't hurt the small business community. In fact, it provides a much needed incentive for them to be able to continue to hire employees and grow, which is obviously the ticket to middle-class America.
And while advocating for limits on medical liability for doctors while serving in the U.S. Senate, Santorum said this to a group of medical professionals:
"If more middle-class Americans plan and save for their long-term care needs, an added benefit will be that the significant financial pressures will be lessened on safety-net programs such as Medicaid – helping us preserve and strengthen these programs for those in need."
WATCH Santorum's hypocrisy on the "middle-class" –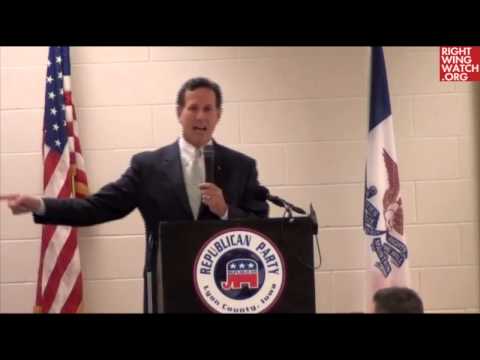 Comments
comments