The hacktivist group Anonymous has issued an online threat to Wisconsin's Capitol Police if they don't cease with violent arrests of peaceful protesters. Anonymous issued their warning of pending action via a YouTube video (see below).
Wisconsin citizens have been peacefully protesting at the Wisconsin State Capitol on a daily basis since early 2011 when Republican Governor Scott Walker initiated his union-busting agenda and war on public employees on behalf of the Koch Brothers and the GOP. Citizens have taken to singing in recent months as a show of protest and solidarity in what is undeniably peaceful assemblies.
The protesters have been gathering in the rotunda every day for two years, altering the lyrics to popular songs and using anti-Walker phrases. Songs include lyrics like, "Hit the road, Scott, and don't you come back no more."
Realizing it couldn't control the ongoing protests, and rather than face his constituents honestly, the Walker administration revised the Capitol access policy in December 2011 to require permits for any organized activity in the Capitol, even if it was performed by only one person. Since then Police have issued the singers countless citations. But then those citations morphed in recent months to violent confrontations and arrests by police.
Daily arrests have included city officials, a school board member, firefighters, teenagers, the elderly, public employees (teachers), journalists, and even mothers with small children. All for singing in a public building.
Anonymous decided to intervene last week after a video surfaced showing police violently assaulting and arresting Damon Terrell for simply photographing the protests.
From Reader Supported News:
"He [CJ Terrell] sits down and refuses to cooperate with an illegal arrest, asking instead for his citation to be issued in the rotunda rather than going through the process of being handcuffed and processed in the capitol basement. His younger brother, Damon, was taking pictures and observing when Capitol Police advanced on him. In the video [below], you can see him backing away with his hands up before four officers tackle him to the ground without provocation. One officer claimed he was injured while arresting Damon, and Damon is being tentatively charged with felony battery of an officer.

[...]

"While some local media chose to only get the DoA's account of what happened, several eyewitness accounts, including my own, attest that Damon's arresting officer got a small cut on his arm from a reporter's watch as he lunged after Damon, whom he decided to blame for the small injury."
WATCH (story continues below the video):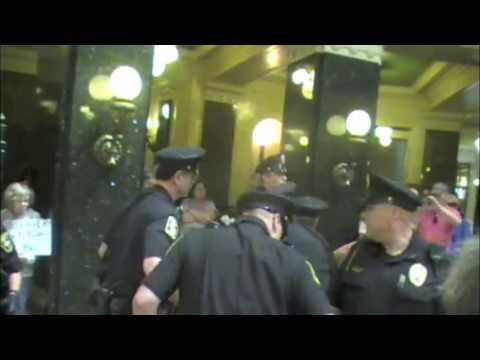 Anonymous decided to step in after video of Terrell's arrest went viral through social media and online outlets.
"We demand that all further police interaction with the protestors stop. If you do not listen to the peoples wishes. And the laws you swore to uphold we will not listen to you or Governor Scott Walker. We have your names, addresses, and more and not afraid to share it with the world. If need be we will have our lulz."
WATCH the Anonymous video (story continues below):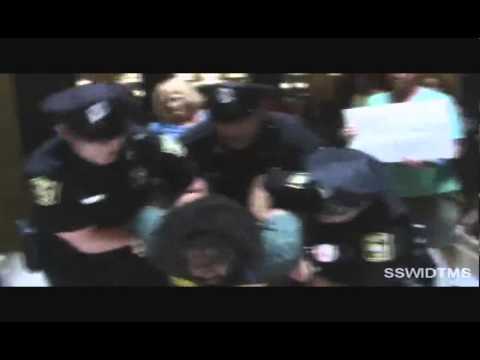 Carl Gibson at Reader Supported News, who actually witnessed Terrell's arrest, is demanding that the Wisconsin Capitol Police force be abolished for violating the Law Enforcement Oath of Honor:
"On my honor, I will never betray my badge, my integrity, my character, or the public trust. I will always have the courage to hold myself and others accountable for our actions. I will always uphold the constitution, and will remain loyal to my community and the agency I serve."
-Law Enforcement Oath of Honor

This excessively antagonistic behavior exhibited when responding to nonviolent protests is only made worse by the department's chief and top deputy both getting questionably large raises in the midst of the crackdown. The Capitol Police have repeatedly violated every part of the oath taken by all law enforcement, are an unnecessary burden on Wisconsin taxpayers and should be abolished.
What do you think: has Gov. Scott Walker and his Capitol Police force gone too far? Are they violating the Constitution and the right to peaceful assembly? How do we turn this violent tide and assault on citizens?
Comments
comments