Videographer Dennis Gilman was surrounded and attacked by members attending an anti-immigration rally at the Arizona State Capitol over the weekend. The rally was organized by nativist extremist groups Remember 1986 and We Are America Tour (not to be confused with the pro-immigration We Are America Alliance). Rally attendees surrounded Gilman, repeatedly attempted to block him from videotaping, pushing and shoving him, and even hitting him with protest signs.
Remember 1986 is a reincarnation of the group, United for a Sovereign America, led by Rusty Childress (see below) who has ties to neo-Nazis like Elton Hall and J.T. Ready. The name refers to to the President Reagan's Amnesty push in 1986, which provided legal status to nearly 3 million individuals. We Are America has a record of harassing day laborers in the Phoenix area, and has connections with the powerful Dr. John Tanton (see below), a racist and nativist extremist, who has been responsible for establishing ALL THREE nationally-recognized and powerful anti-immigration groups.
Speakers at Saturday's rally included defrocked Arizona Senate President, Russell Pearce, and Republican Congressional candidate, Gabriela Saucedo Mercer. To her credit, Mercer actually pleaded with the crowd to stop harassing Gilman, saying, "as a United States citizen, this man has a right to be here."
Gilman has been shadowing and videotaping both groups to expose their tactics. He is well-known to both organizations and they often use intimidation and violent tactics to prevent him from reporting on their rallies and meetings. In the video (below), one goon insists that Gilman needs a permit to videotape the rally, which is a lie. The rally was on public grounds and the invitation was posted to the general public on Facebook. Other attendees hurl insults, profanity, and call him a "Communist."
WATCH (story continues below):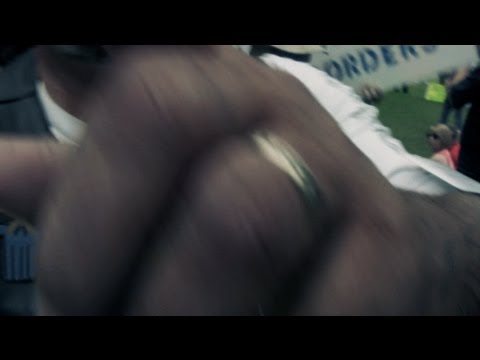 Protesters insisted that Gilman was the aggitator and incited the conflict. Thankfully, playwright James Garcia was present, and documented the incident:
"He was exercising his First Amendment right as an independent journalist to document a news event when he was literally surrounded by several people who alternately tried obstructing his view to keep him from videotaping, while a few of them began pushing and shoving him around–apparently intent on trying to provoke him….

"At one point, some of protesters who had surrounded Dennis began to yell out that he was assaulting them. These were blatant lies. The most aggressive thing Dennis did was turn his camera on his aggressors in hopes of documenting their abuse, while he pointedly insisted that they not touch his camera equipment. "
Who is Dr. John Tanton?
From The New York Times:
From the resort town of Petoskey, Mich., Dr. Tanton helped start all three major national groups fighting to reduce immigration, legal and illegal, and molded one of the most powerful grass-roots forces in politics. The immigration-control movement surged to new influence in last fall's elections and now holds near veto power over efforts to legalize any of the 11 million illegal immigrants in the United States.

One group that Dr. Tanton nurtured, Numbers USA, doomed President George W. Bush's legalization plan four years ago by overwhelming Congress with protest calls. Another, the Federation for American Immigration Reform, or FAIR, helped draft the Arizona law last year to give the police new power to identify and detain illegal immigrants.

A third organization, the Center for Immigration Studies, joined the others in December in defeating the Dream Act, which sought to legalize some people brought to the United States illegally as children.

Rarely has one person done so much to structure a major cause, or done it so far from the public eye. Dr. Tanton has raised millions of dollars, groomed protégés and bequeathed institutions, all while running an ophthalmology practice nearly 800 miles from Capitol Hill.
Who is Rusty Childress?
From the Phoenix Insurgent:
Rusty is one of the big financial backers of the anti-immigrant movement in Arizona. He pumped money into Arizona's racist so-called "Protect Arizona Now" Proposition 200, which passed in November 2004, denying vital services to immigrants. Since Prop 200′s passage, he continues to be one of the sugar daddies of the anti-immigration movement.

[...]

Aside from the Minutemen and other anti-immigrant groups, he counts among his political associations Sheriff Joe's Maricopa County Sheriff's Executive Posse (famous for it's connections to organized crime), the Phoenix Chamber of Commerce Crime Council and the Phoenix Block Watch Advisory Board. He was also Chairman of the Arizona Automobile Dealers Association Ethics Judiciary Committee. Like all rich people, Rusty loves fighting crime. He's not a friend of the working class, and he links to the downtown anti-poor gentrification organization "N.A.I.L.E.M." from his website, which itself links to Mesa Racist and anti-immigrant legislator Russell Pierce. Both N.A.I.L.E.M. and Pierce supported PAN.
In Rusty's own words. From a 2004 Arizona Republic article:
"We're tired of (picking up) the tab of illegal immigration. We are no longer willing to subsidize this. My business has sustained around $45,000 in damages since I got involved. It has been vandalized. There have been gunshots to windows and gases sprayed on our vehicles. For me in particular it is about speaking up on the issue of illegal immigration and demanding that politicians do something."
Comments
comments